<figure class="media-landscape" no-caption full-width lead">
In a secret location in east London we're having a look behind the scenes of Secret Cinema's latest theatrical production.
For its tenth birthday a massive warehouse has been transformed into the world of Blade Runner.
Founder Fabien Riggall says he came up with the idea of Secret Cinema when he was a child who "wanted to live inside the film".
So how has he turned that dream into the most famous business of its kind?
"When I started making short films I thought 'Why can't cinema be something closer to a rock 'n' roll concert or a music festival or a nightclub?'," he says.
"Audiences need to feel the story."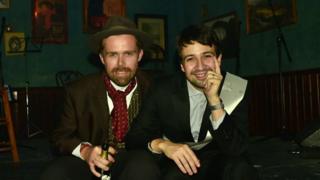 Secret Cinema combines cinema and theatre – it's about being an active participant, not just a spectator.
The venue is normally an old warehouse which has been transformed into what looks and feels like a film set.
Once inside you become part of the film, with actors pulling you into the plot and encouraging you to get involved.
"Every audience member gets given a specific character, which they build online before they come," Fabien says.
The 'secret' aspect of the idea "came from the rise of digital culture".
"Everyone was getting into being online all of the time. The idea of being offline and it being a secret was really important to us," he says.
<figure class="media-landscape" has-caption full-width">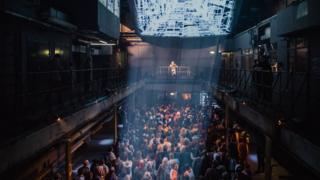 Image caption 100,000 people went to see Secret Cinema's Star Wars: The Empire Strikes Back
Initially the idea of it being mysterious was risky.
"Of course people thought we were insane," Fabien says.
But it paid off – 80,000 people paid more than £40 to go to Secret Cinema's Back To The Future, and 100,000 went to see Star Wars.
"Humans want mystery, they want to experience something unpredictable and I think that is why Secret Cinema has its place."
It's also down to picking the right films – classics that people want to immerse themselves in.
<figure class="media-landscape" has-caption full-width">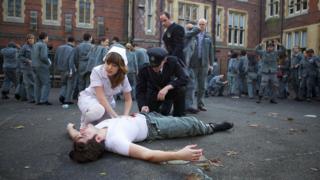 Image caption The Shawshank Redemption got the Secret Cinema treatment in 2012
Secret Cinema has already ventured to America and Australia and although Fabien won't give much detail, don't bet against the format popping up in other countries too.
Secret Cinema's Blade Runner launches on 21 March, running until June. For more information and tickets, visit secretcinema.org.
Follow Newsbeat on Instagram, Facebook and Twitter.
Listen to Newsbeat live at 12:45 and 17:45 every weekday on BBC Radio 1 and 1Xtra – if you miss us you can listen back here.
<
div id="topic-tags">
<
div id="u2727308594621718″>
<
div class="tags-container">
<
h2 class="tags-title" story-body__crosshead">Related Topics