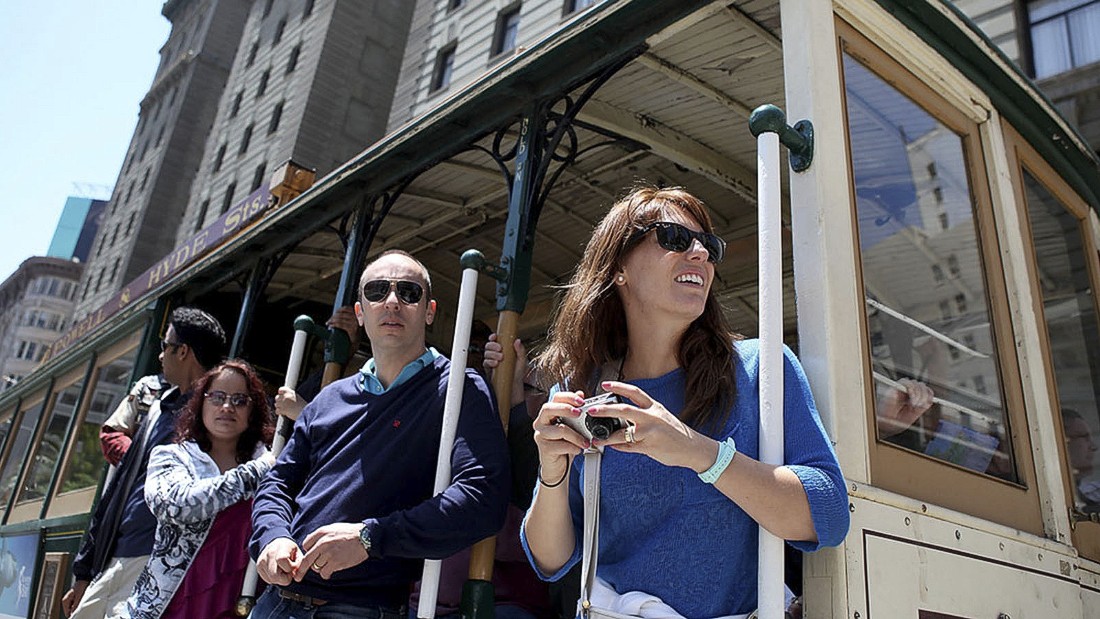 (CNN)San Francisco is small by urban standards, a compact swath of rambunctious hills, windswept bays and rainbow-colored Victorian homes. But it's seen enough upheaval for a town twice its size.
And it's been the adopted home of numerous seismic social — and geological — movements.
As a result, San Francisco is a crossroads of commerce and counterculture, suffused with noir moodiness as well as Gold Rush bravado.
Just remember that San Fran's weather has mood swings that are as complex. To avoid becoming one of those sullen tourists shivering in shorts and a T-shirt as the fog crawls around their ankles, bring a sweater — as well as these suggestions for experiencing the best of San Francisco.
Hotels
Luxury
Palace Hotel
The Palace's ceiling is worth more than some entire hotels.
With a soaring stained glass ceiling, marble floors and mammoth chandeliers, the Palace summons the San Francisco of yesteryear.
It should: it was built in 1909 to replace an earlier version gutted by fire following the infamous 1906 earthquake.
It isn't difficult to imagine a long, eclectic roster of high-profile guests that includes Soviet Premier Nikita Khrushchev, author Oscar Wilde and four standing U.S. presidents taking high tea in the Palace's celebrated Garden Court.
Located downtown, the Palace provides easy access to public transportation, cabs, museums and the waterfront.
You can even do some sightseeing without leaving the premises: the hotel runs historic tours three days a week.
Mid-range
Hotel des Arts
With each of its rooms custom decorated by artists both local and international, the Hotel des Arts is part hotel, part art gallery.
Guests can bed down in settings conceived by the likes of Brian Barneclo, Jeremy Fish and Shepard Fairey.
Never heard of 'em? Rest easy, they create pretty surroundings.
Take heed, though: unlike the deluxe rooms and suites, standard rooms share a community bathroom and shower.
Located downtown, de Arts is within walking distance of Chinatown, North Beach and Union Square is and surrounded by places to eat and drink.
Grand Hyatt San Francisco
It's tough to decide which is the more potent lure here — the hotel's shop-and-attraction-friendly Union Square location, or the recent renovations.
All 659 guestrooms have been updated.
Great staff and famed Hyatt pillow-top mattresses help make the Grand Hyatt a reliable place to do everything from sip martinis to hole up flicking channels in high style.
Expected business amenities are all here — conference rooms, Uno-Bitell Media phones (sounds impressive), in-room Wi-Fi — along with the refurbished Grandviews Restaurant, which serves fresh California cuisine in a 36th floor dining room with, you guessed it, grand views.
Budget
Grant Plaza Hotel
The exception is this affordable semi-gem inside the Chinatown gate and just a block from a cable car line.
Rooms are functional if dated (the hotel's website still touts "clock radios" as an in-room amenity) but the place is clean and within walking distance of many restaurants and bars.
For the price in one of the most expensive cities in North America, it's an unbeatable deal.
All rooms are non-smoking.
Dining
Boulevard
Touting itself as "one of the most popular restaurants in America" (we don't necessarily disagree), Boulevard is among the best places in the City to close a business deal or a new romance.
The "Belle Epoque-inspired," 64-seat restaurant serves a unique fusion of French/European and modern American cuisine.
Roasted beet salad with Spanish goat cheese, and rabbit and wild greens tortellini are nifty.
But Boulevard is at its best when serving up big chunks of grilled and roasted meats: lamb, pork, beef and local fish are what bring in the crowds.
Elegant, pricey and pretty close to perfect.
Reservations a must.
Sons & Daughters
You'll get a sense of Matt McNamara and Teague Moriarty's culinary sensibilities when you enter their TenderNob premises: stylish without trying too hard.
Their deconstructed American dishes are creatively prepared and presented, making them as lovely to behold as to eat.
The menu is seasonal, offering two choices: a tasting menu and a vegetable tasting menu, with many ingredients harvested from Sons & Daughters' own garden in nearby Los Gatos.
Since it opened, the restaurant has garnered a number of accolades, including a Michelin Star earned after just one year in business.
Changing tasting menus are offered daily for $98 with the option of a $69 wine pairing.
Gary Danko
Named after its founder, one of the country's most respected chefs, this classy, 65-seat eatery spins out meals that combine Danko's classical training in French and Mediterranean cuisine with California ingredients and innovative spirit.
You could live for a year off the appetizer menu: pistachio-covered sweet breads with cauliflower, goat cheese "truffles" and the like.
The entre selection includes many fresh seafood and meat options.
The roasted pork belly comes with red peppers and a maple-cider glaze, for just one example.
There's also a large, high-end wine and cheese list.
Reservations a must.
NOPA
There are many of its kind in this city, but NOPA is San Francisco's best at serving familiar, hearty and thoughtful versions of what it calls "urban rustic food": wood-roasted salmon, grass-fed hamburgers and rotisserie chicken.
The small bowls of spiced chickpeas are seasoned to perfection and make a wonderful pre-meal snack.
Cocktails are also expertly prepared, and like the food, not overworked.
NOPA is in high demand and doesn't take reservations, but the vibe encourages patrons to pull up a seat at its expansive bar and sample the snack menu while waiting.
Una Pizza Napoletana
Anthony Mangieri's unadorned shop, with its concrete floors and bare white walls, quickly earned acclaim among San Francisco's (many) artisanal pizzerias for its slavish adherence to the craft.
Mangieri reigns in the middle of it, making pizzas before an immense wood-fired brick oven, his arms covered in tattoos.
This master pizza-maker has more than once been referred to as a rock star of the genre.
Like the space, Mangieri's pizzas are unadorned and perfect: anointed with San Marzano tomatoes, extra-virgin olive oil, oregano, fresh garlic, basil and sea salt.
Humphry Slocombe
Humphry Slocombe ice cream isn't afraid to shock, either with the names of its ice creams or their flavors.
Take Jesus Juice, for instance: a sorbet of Ctes du Rhne and cola.
Or the shop's most popular flavor, Secret Breakfast: caramelized corn flakes in a cloud of whiskey ice cream.
They've also served up scoops of foie gras ice cream, prosciutto ice cream and salt and pepper ice cream.
Humphry Slocombe has earned the right to these quirky flavors because they're actually good.
Really good. Like, kill-the-guy-before-you-in-line good.
Off the Grid
Perhaps the only thing that has multiplied faster in San Francisco than artisanal pizzerias is food trucks.
There are Southern trucks, cupcake trucks, taco trucks, rib trucks, Thai trucks, noodle trucks, pizza trucks — there's even a truck devoted solely to the food meme bacon.
While most trucks alert fans to their whereabouts via Facebook and Twitter, the easiest way to sample several at once is at events organized by Off the Grid, which assembles numerous vendors in one spot for weekly markets throughout the city.
Often accompanied by live music, these gatherings take on a festive vibe.
It's hard to resist sampling more than one truck, so it's best to arrive hungry.
El Farolito
Super shrimp and carnitas burrito from El Farolito.
Overstuffed, rolled tight and wrapped in a sheath of tin foil, the massive burritos served at this Mission taqueria are cheap, delicious and filling.
While excellent at any time of day or level of sobriety, El Farolito's dependably delicious hunger bullets are particularly satisfying after a night of drinking.
Good thing it's open late.
El Farolito serves up all the usual meats like carne asada and al pastor, but you can also get cabeza (beef brain) and lengua (beef tongue).
The squeamish shy away, but they are impossibly tender and juicy.
Nightlife
Comstock Saloon
Named for Henry T "Pancake" Comstock, the man whose fortunes lured thousands of miners to San Francisco in the 19th century, this North Beach saloon is a refined tribute to those rough Barbary Coast times: dim lights, tin ceilings, classic cocktails and ostentatious wallpaper.
The bar also serves period-inspired food, like beef shank and bone marrow potpie.
On Friday, Comstock revives a Gold Rush tradition of serving a free lunch with the purchase of two drinks.
The deal almost makes more sense for travelers than locals, who may have to return to work with a brace of stiff cocktails in their system.
DJ Purple Karaoke
Many flinch at the word "karaoke," which can conjure visions of poorly warbled Journey and "Total Eclipse."
But DJ Purple (aka Steve Hays) is a Bay Area treasure, and he serves up a karaoke dance-party that reinvents the maligned medium.
DJ Purple favors upbeat songs and loud music, putting the focus on the crowd rather than the individual, inspiring group sing-alongs and nonstop dancing.
Oh, and he also plays the saxophone — often the highlight of the evening.
DJ Purple Karaoke, multiple nights, locations; budget (free to sing, but tip your karaoke jay).
Tommy's Joynt
While complicated cocktails with organic ingredients may dominate the San Francisco drinking scene, Tommy's Joynt proudly declares on its website, "We remain steadfast in our opposition to change."
This large, wholly unpretentious family-owned spot is cluttered with fascinating bar junk, pours an impressive array of beers and serves meals like corned beef from its cafeteria-style buffet to be eaten on tables adorned with red-and-white-checkered table cloths.
Shopping
Valencia Street between 14th and 26th
This trendy corridor of small boutiques embraces everything from clothing and letter-pressed cards to taxidermy and books, much of it locally made.
Carefully curated used clothing stores like No Shop and Painted Bird are extraordinarily well priced.
Paxton Gate conjures oddities like carnivorous plants, while its children's store provides lovely toys of the non-plastic variety.
The Curiosity Shop sells jewelry and trinkets as well as local art.
Dog Eared Books is the kind of store that's fun to get lost in for an hour or so.
826 Valencia sells a gallimaufry of goods dubbed "pirate supplies."
Coffee shops like Four Barrel and Ritual Roasters plus plentiful eateries supply ample shopping respite.
Valencia Street between 14th Street and 26th Street
Green Apple Books
Can any city really be great without a really great bookstore?
A rambling, multi-story shop with a winding staircase and secluded corners, Green Apple Books is the kind of experience that unfolds as you make your way from front to back.
Browsing and hanging out are encouraged, with chairs tucked away in remote spots, where patrons can leisurely thumb through a book on the occult, a massive photo compendium, a young-adult hit or a biography.
With books both new and old, there doesn't seem to be a subgenre — or price point — unrepresented.
Japan Center
Chinatown isn't SF's only Asian community.
The Japantown mall is a series of buildings connected by courtyards and bridges filled with small shops and eateries that peddle Japanese wares.
PIKA PIKA specializes in whimsical Japanese photo booths where users can snap pictures of themselves then print the results as stickers.
Ichibahn Kahn and Daiso are Japanese dollar stores that sell a dizzying array of adorable, affordable items.
Bookstores stock manga and Japanese editions of magazines like Vogue.
Several variations of the pillow candy mochi can be purchased at Nippon Ya.
Meticulously crafted fake foods adorning the windows of sushi and noodle spots rank as bonus sightseeing.
Attractions
California Academy of Science
The California Academy of Science has mastered the modern museum experience: immersive and interactive without being gimmicky, there's not an animatronic statue to be found.
Located in Golden Gate Park, the museum is easily identified by its massive, undulating living roof.
Once inside, visitors can tour a living rain forest, fly through space in the planetarium or descend to the darkened aquarium with its hypnotic displays of jellyfish, alien-like sea dragons, an octopus, electric eels, an anaconda and piranhas.
CAS is a functioning research facility, so employees can often be spotted performing taxidermy on a number of specimens.
The Presidio
A former military base near Golden Gate Park, the Presidio is filled with distinctive low-slung, white buildings that served as army barracks.
The tree-filled park packs in wonderful hiking and biking opportunities, sweeping vistas, beaches and marshes.
It's also home to a military cemetery — including a pet cemetery where the army buried beloved animal companions.
Homemade tombstones and memorable epitaphs abound.
George Lucas' Industrial Light and Magic is headquartered here, its Yoda fountain having become a favorite stop for Star Wars fans.
Post-hiking cocktails can be enjoyed at the charming Presidio Social Club, which boasts a historically themed drink menu.
Presidio Visitor Center, 105 Montgomery St.; +1 415 561 4323
Filbert Steps
San Francisco's famously hilly geography is crisscrossed with hidden, meandering staircases whose seeming impracticality is part of the appeal.
The Filbert Steps are the most magnificent.
They begin in a plain alleyway flanked by office buildings.
Surrounded by lush greenery, concrete steps give way to wooden ones, climbing up, up and up through a hillside neighborhood dotted with beautiful and quirky homes, statues and gardens.
Discoveries abound: the green and red parrots of Telegraph Hill overhead, a mural celebrating miniature poodles and fantastic views.
Finally, the stairs spit you out at Coit Tower, a monument to firemen with Depression-era murals inside.
Counterculture
But the city became the unique enclave it is because of the people and cultural movements that shaped its character.
Here are a few places where you can experience them.
The Audium
Visitors seeking vestiges of San Francisco's bohemian heyday should skip Haight Street, unless they want to battle crowds for bongs and tie-dyed shirts.
Attendees of this half-century-old sound experiment sit in a dark, domed theater, surrounded by 176 speakers and listen to creator Stan Shaff's mind-bending arrangement — a mixture of electronic music, giggling children, galloping horses and other sounds — while a light show plays overhead.
The performance can tread into kitschy territory, but Shaff's ingenuity and dedication somehow elevate it.
Shaff might not call the experience "psychedelic," but upon exiting, many an audience member will deploy the word "trippy."
It's certainly representative of the city's permissive, experimental spirit.
GLBT Museum
The GLBT History Museum is the first of its kind in the U.S. and only the second in the world (after Berlin).
Opened in 2011, the GLBT Museum (Gay, Lesbian, Bisexual Transgender) was decades in the making and was the first of its kind in the United States.
A project of the 25-year-old GLBT Historical Society, the 148-square-meter space provides an intimate, handcrafted experience located in San Francisco's historically gay neighborhood, The Castro.
Drawing on the society's vast archives, the museum displays a wide-ranging menu of artifacts from matchbooks and manuscripts to Harvey Milk's kitchen table.
Knitted together, the objects tell a larger story.
You can download the free museum tour to enhance your experience, and check out the roster of events for author talks and panels.
Vesuvio Caf
In North Beach, you'll find these two paeans to Beat culture on opposite sides of Jack Kerouac Alley, named for the literary movement's iconic pioneer.
City Lights bookstore will forever retain an air of daring and notoriety for publishing Allen Ginsberg's "Howl" and weathering the storm that followed, including a high-profile obscenity trial.
The bookstore remains a cultural hub and favored destination for bibliophiles.
Down the street, you can grab a drink at Vesuvio, a bar famed for serving the literati of the Beat Generation.
Despite its tourist appeal, it's a neighborhood saloon where drinks are strong.
On the mezzanine you can claim a private corner where you can drink and spy on the patrons below.
Read more: http://www.cnn.com/2015/10/29/travel/insider-guide-san-francisco/index.html