High camp meets political grit in a meta night at the famous venue, which recreates July Garlands legendary performance there over 50 years before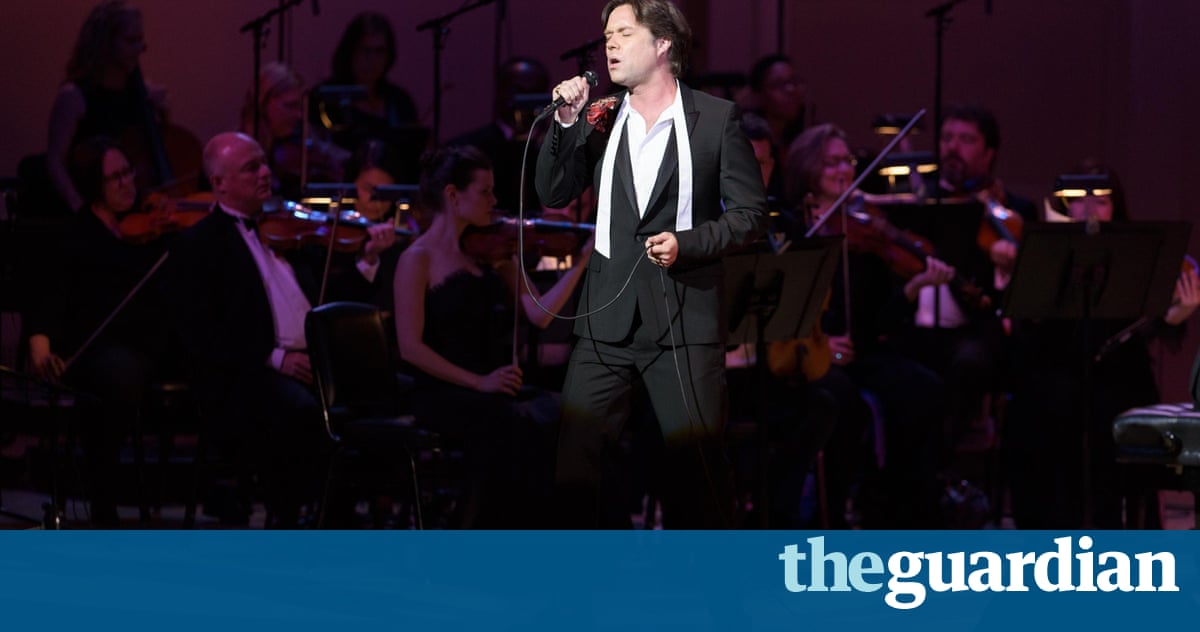 Ten years ago, Rufus Wainwright did something extraordinary even bizarre: he performed a cover version of an entire concert. Judy Garlands 1961 performance at Carnegie Hall is a legendary night in showbiz, marking a comeback after a period of ill-health and addiction in order to claim her crown as the worlds greatest entertainer.
Wainwright, who had his own crystal-meth-afflicted dark night of the soul in the late 90s, decided to sing the whole thing from beginning to end, including the parts where Garland forgets the words (in You Go to My Head), on the very boards the resurgent diva trod. Part homage, part exorcism, part formidable technical exercise, it was also an experiment: what would happen when the voice of the present sings the songs and evokes the spirits of the past? At first, Wainwright said in an interview last week, the show was a triumph, but as he took it round the world it became increasingly difficult. Therefore, it was unfinished business.
Hence Thursdays concert, which is even more meta a copy of a copy, Wainwrights 2006 Carnegie Hall show. For the singer, the ensuing decade has included marriage, fatherhood, the death of his mother and the composition of an opera, which wasnt altogether well received. After a brutal week, many in the audience are also no doubt feeling somewhat battered by life, a mood acknowledged by Wainwright. He dedicates Noel Cowards If Love Were All (the only song in the set written by an Englishman, he points out) to Jo Cox, the MP murdered in West Yorkshire that day.
Garland being perhaps the pre-eminent gay icon, news of whose death fuelled the emotions that led to the Stonewall riot, Wainwright could also hardly fail to mention the Pulse gay club massacre. Were going to be OK were survivors, he concludes. If anybodys a survivor its a gay person. Lets try to make the world a better place. And he and the orchestra launch into Zing! Went the Strings of My Heart.
The whole point of the show is the way it treads the line between sincerity and extreme artifice. Wainwright is dressed by <a href="http://www.theguardian.com/fashion/2015/sep/03/jw-anderson-loewe-interview" data-link-name="in" body link" class="u-underline">JW Anderson in a black tux in the first half; and in the second a scarlet creation that includes ruby slippers and sequined tails, and which even Wainwright says is ridiculous I mean far-fetched. As he says, tonight hes half-Garland, half-Frank Sinatra, and allows himself to indulge in the fantasy that he is their very good-looking gay child.
The orchestra, conducted by Tony-winning musical director Stephen Oremus, is both creamily luxuriant and sharp as a diamond tie-pin; Wainwrights voice has aged well. Hes pleasingly grainy on Gershwins Do it Again and can slalom through Come Rain or Come Shine, which he introduces as the most difficult piece of the night. He obviously knows the material backwards (and in high heels) and his adoration of it rubs off. Nevertheless, emotionally the show doesnt quite wire the audience to the mains throughout, as Garlands performances famously did. The overarching atmosphere is that of a gathering of connoisseurs of showtunes and gay semiotics, rather than a massive emotional outpouring, however fine Wainwrights performance and he is working hard, as the expanding sweat patch on his back attests.
As Wainwright acknowledges when he sardonically dedicates Rock-a-Bye Your Baby With a Dixie Melody to Donald Trump (a not-very-veiled reference to Trumps racism), we are experiencing the songs at one remove, their meanings often changed by time. The other presidential candidates get dedications too: I Cant Give You Anything But Love goes out to Bernie Sanders; while the final song, a delirious Get Happy, is for the next president of the United States Hillary Rodham Clinton.
You Made Me Love You is embellished with a good gag about Grindr Rufuss between-tune chat still on point, but perhaps acknowledging that for all their technical peerlessness and meticulous recreations, some of these songs sound very old-fashioned indeed. However, some numbers are imperishable, and Wainwright delivers an Over the Rainbow that is all at once a lament, a call to arms and a secular gay hymn, and which results in the first of three standing ovations. Then, before Chicago, were asked to participate in a little audience participation. If you were here 10 years ago, you sucked, declares Wainwright but by then, the audience has been completely charmed into submission.
Read more: https://www.theguardian.com/music/2016/jun/17/rufus-wainwright-review-judy-garland-covers-political-grit