<figure class="media-landscape" has-caption full-width lead">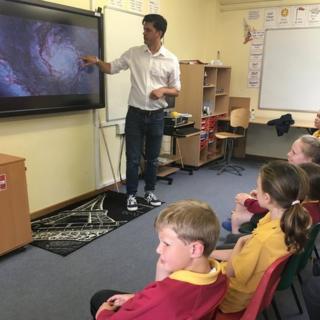 Image caption Dr James Geach hopes primary pupils could make new discoveries
Modern science produces so much data that scientists can't cope with it all – so why not enlist schoolchildren to help?
The new Sky Explorers club at Wheatfields Junior School in St Albans is making use of a night sky camera which has been installed on the building's roof.
"I am really looking forward to doing all the great stuff we are going to do with the camera," says eight-year-old Cameron. "Looking at space is really exciting."
Throughout the night, the camera takes a long exposure shot of the whole sky once a minute and the resulting thousands of images are made into a time-lapse film for the children to view the next day.
The club members will be on the look-out for shooting stars or meteors and will log where they appear, their direction and the time and send the data to the international All Sky Camera network.
<div id="bbccom_mpu_1_2_3″ class="bbccom_slot" mpu-ad" aria-hidden="true">