Veteran rocker Ronnie Wood, 70, on beating cancer, becoming a father again to twins and his retrospective book of his own art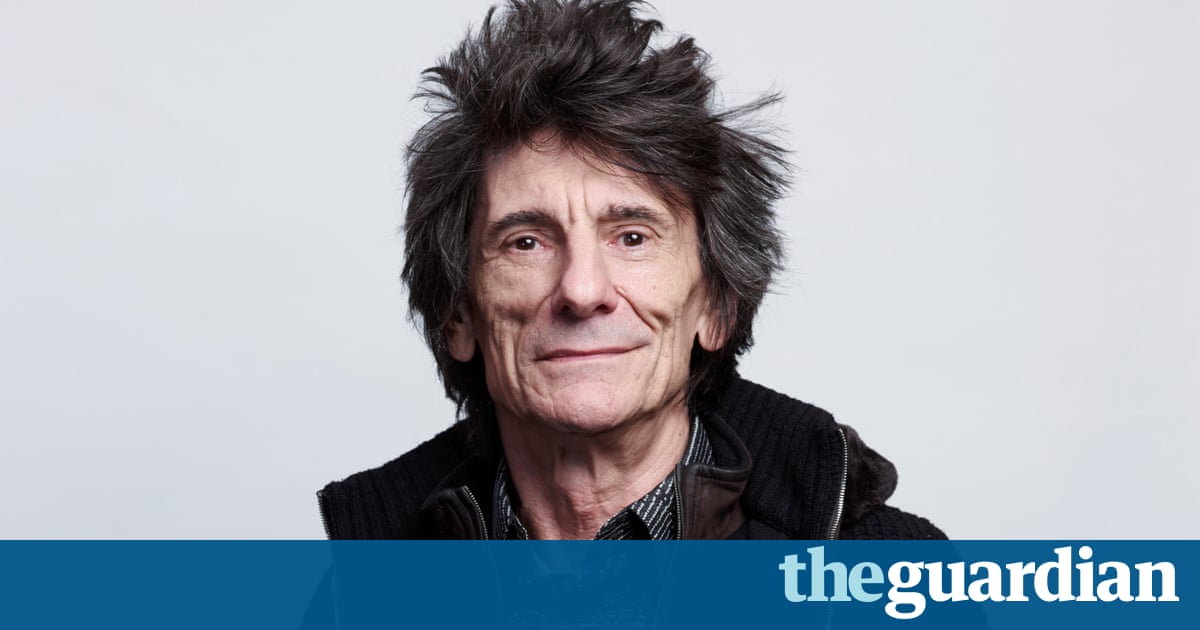 Ronnie Wood and I meet a little prior to our interview at a central London hotel, bumping into each other in the lift. Have I met you before? he instantly asks. (No; though maybe, after all the years of rocknroll hedonism as a guitarist with the Rolling Stones, Wood has to play it safe and ask everybody.) Now 70, he became a new father again last year when his wife, Sally Humphreys (they married in 2012), gave birth to twin girls; he has four other children from previous marriages, and six grandchildren. His signature rocknroll look (spiky hair; spiky face), bears no signs of his health crisis earlier this year when he was diagnosed with lung cancer and underwent surgery to remove affected tissue.
Settling down to chat, he is friendly, good-humoured, and sometimes a little distracted, fetching himself cola (his remaining vice). An artist as well as a musician (he trained at Ealing College of Art), Wood occasionally reaches over to leaf through his new book, a retrospective of his lifes artworks, Ronnie Wood: Artist, showing me different drawings and paintings.
Are you proud of the book?
Oh yeah! Ive wanted to do this for at least 50 of my 70 years, but it got more intense for the last 30. Theres that lovely French phrase for a collection of an artists work, catalogue raisonn. For me, the book is like that.
Is your art a kind of sanity project something thats just about you, apart from the Stones?
Art is just something that Ive always done a great consoling thing, and something I do on my own. Ive got the musical group effort and then Ive got this, my own private comment on daily events. Rarely a day goes by without me doing a painting or a drawing.
Your parents were bargees [people who lived and worked on the rivers and canals] and became the first in their families to live on dry land…
You can trace a lot of the Woods, and the Dyers, my mums maiden name, back to the 18th century on the waters, carrying timber or salt. Maybe theres a link to the Spaniards why else have I got black hair at 70?
Youve dedicated the book to your late parents and late brothers
I thanked Mum and Dad for their patience and encouragement. It was only a little council house but they let us have the back room as a creative room. And my brothers were very encouraging they were 10 years older, artists and musicians too. They made it such a natural thing to be sitting around, drawing and playing. Theyd bring back their art school friends all the girls! Id be there, in short pants and grey flannels, thinking: That looks like a good job. Lots of perks on the side, and you can paint too!
Some people think that you only draw and paint the Stones, and other famous people you know but the art in the book is very varied
That may be from when I first tried to make my comeback in the art scene. When I was running out of money, in the late 80s, I realised, I do have another resource that I can tap I can paint. Let me try to get my foot in that door. So I did portraits, a lot of portraits some of them are in this book. But youre also having a great time doing it. Otherwise it wouldnt be rewarding, and it has to be rewarding.
Keith Richards writes the outro to your book, calling you a Picassartist are the Stones supportive of your art?
Yes, but it wasnt always that way. Keith and Charlie [Watts] are artists in their own right. Charlie used to be critical of me, saying Youve overworked that, you had that, and now youve done too much, and never a truer word was said in jest. Keith would always say that theres a lot in what you dont say, in the spaces you leave both when youre playing, and with pen and canvas. So, yes, I find that youre always learning, musically and artistically.
Do you still feel like the new kid in the Stones?
Its only 40-odd years! I did my apprenticeship, 17 years, before I got a raise, before I even thought about money. I was like, Do you think I should get a bit more? and they were like Yeah, well, we thought youd never ask those who dont ask, dont want, mate.
Maybe you were sidetracked for years, you and Keith Richards were bywords for rocknroll excess
Oh yeah 10 years went by like that! It was like, Wh-aaat? Its always good with Keith, great fun. We have that standing argument which one is the better guitar player? We have to call Eric Clapton and he says, Neither of you are. Im better than both of you. We all still get together [Clapton and the Stones]and every time we meet up its like no time has gone by and yet there are so many stories to fill in, so many adventures.
I just fought the cancer, thats my latest adventure. I smoked heavily for 50 years, and I thought, theres got to be some price to pay. I hadnt had a chest x-ray for 16 years, and when I did, sure enough, there was a big shadow there on my lung, a supernova. I thought fucking hell!
I definitely went in there with a positive attitude. I thought, right, Ive got cancer, lets get it out. They went down my drainpipe, hosepipe what do they call it? Windpipe! There were all these tubes coming out of me. I felt like a puppet, I was all wired up like a marionette.