The Brazilian has retired after an extraordinary career but his wonderful talent will be remembered for ever. He changed our history, the Barcelona midfielder Xavi said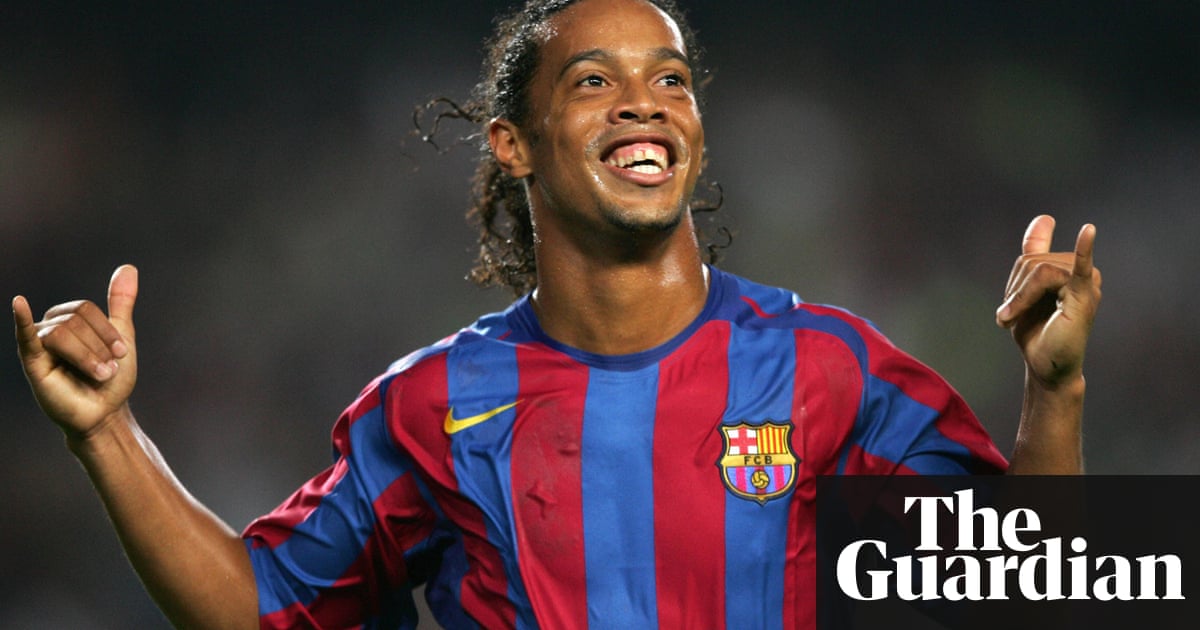 Ronaldinho: a player so good he made you smile
The Brazilian has retired after an extraordinary career but his wonderful talent will be remembered for ever. He changed our history, the Barcelona midfielder Xavi said
Ronaldinho. See? Youre smiling already. Just thinking about the things he did and the way he did them, the way he was, gets you giggling. Look him up on YouTube and maybe youll fall for him all over again, a bit like all those defenders. Watch for long enough it wont take long and you might even feel like standing to applaud, just like the Santiago Bernabu did, an ovation for a Barcelona player, as if for all the rivalry they hadnt so much been beaten by his genius as shared in it. Sergio Ramos was on the floor, they were on their feet. Cameras zoomed on a man in the north stand with a moustache and a cigarette hanging limp from his lip: Bloody hell, did you see what he just did?
Its a question that was asked a lot. What Ronaldinho did, no one else did. And it wasnt just what he did; it was the way he made people feel. Nostalgia, memories, are about that: not so much events but emotions. Watching Ronaldinho was fun, it made people happy. Those may be two of the most simple, childish words of all but they are the right ones. Football stripped right down to its essence: happy, fun.
Funny, too.
There may never have been a player who made the game as enjoyable as Ronaldinho, in part because he played and it was a game. I love the ball, he said. One coach, he recalled, told him to change, insisting that he would never make it as a footballer, but he was wrong. It was because he played, because he enjoyed it, that he succeeded: the grin on his face was not just there after he won the league, the Champions League, the World Cup and the Ballon dOr, it was there while he won them. It became contagious. He changed our history, Barcelona midfielder Xavi Hernndez said.
One Real Madrid director claimed that Madrid hadnt signed him because he was too ugly and would sink them as a brand. Thanks to Beckham, everyone wants to shag us, he said. He, too, was wrong: everyone wanted to embrace Ronaldinho, enjoy him. The long, soul-glow hair, the goofy grin, that surfers wave, thumb and little finger waggling a gesture so his, so symbolic of Barcelonas revival that it was fashioned from foam and sold in the club shop.
An entire publicity campaign was built around him, the embodiment of jogo bonito. He might not have been beautiful but his game was and no one was more attractive, a marketing dream Madrid missed. Almost a comedy cartoon character himself, he inspired the BarcaToons and on Spains version of Spitting Image his puppet giggled and laughed and repeated one word over and over: fiesta! I am like that, he admitted.
On the pitch, too, an extension of that expressiveness. When you have the ball at your feet, you are free, Ronaldinho wrote in an open letter to his younger self, repeating a mantra: creativity over calculation. It is almost like youre hearing music. That feeling will make you spread joy to others. Youre smiling because football is fun. Why would you be serious? Your goal is to spread joy. He said that was the way his father, a shipbuilder and football fan who worked weekends at Grmios ground, had told him to play. His older brother Roberto was at Grmio too. And then, growing up, there was Bombom, his dog. He also played.
Ronaldinhos brother was his idol but he ended up better than him. He was better than anyone at the time: you genuinely wondered if he might end up better than anyone else ever. It didnt last long enough for that but it lasted because he did things youd never witnessed before, skills most never imagined let alone replicated, and that emotion remained. His feet are so fast he can touch the ball four times in half a second. If I tried to do what he can do, Id end up injuring myself, Philippe Cocu said.
For three years no one could match the wow, the wonder, the silliness, the jaw-dropping, laugh-out-loud daftness of it all. The back-heels, step-overs and rubber ankles, the power too, the change of pace, the passes without looking. The passes with his back, for goodness sake. The free-kicks over the wall, round the wall and under it. Nutmegs, lobs, bicycle kicks, everything.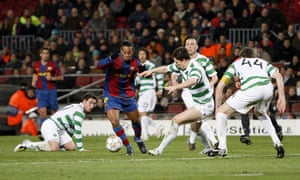 Read more: https://www.theguardian.com/football/blog/2018/jan/17/ronaldinho-player-made-you-smile-barcelona