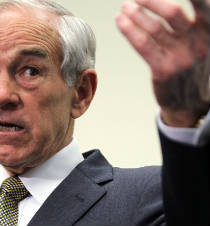 Here's a look at the life of former presidential candidate and U.S. Representative Ron Paul.
Personal:
Birth date: August 20, 1935
Birth place: Pittsburgh, Pennsylvania
<
ul class="cn" cn-list-hierarchical-xs cn–idx-4 cn-zoneadcontainer">
Birth name: Ronald Ernest Paul
Father: Howard Paul, dairy farmer
Mother: Margaret (Dumont) Paul, dairy farmer
Marriage: Carol (Wells) Paul (February 1, 1957-present)
Children: Ronald Jr.; Lori; Rand, Robert; Joy
Education: Gettysburg College, B.A., Biology, 1957; Duke University Medical Center, M.D., 1961
Military Service: United States Air Force, 1963-1965, Flight Surgeon; United State Air National Guard, 1965-1968
Religion: Baptist
Other Facts:
Practiced obstetrics and gynecology and has delivered more than 4,000 babies.
Never voted for legislation unless the proposed measure was expressly authorized by the Constitution; was known as "Dr. No" for this policy.
Voted against the Patriot Act.
Was the first representative in U.S. history to serve alongside his/her child serving in the Senate. His son,
Rand Paul
is a U.S. senator from Kentucky.
Timeline:
1961-1962 – Completes internship and residency training at Henry Ford Hospital in Detroit, Michigan.
1963-1965 – Flight Surgeon in the United States Air Force.
1965-1968 – Completes obstetrics and gynecology training at University of Pittsburgh in Pittsburgh, Pennsylvania.
1965-1968 – Reservist in the United States Air National Guard.
1975 – Runs for a seat in Congress representing the 22nd district of Texas. Paul loses to incumbent Robert Casey (D-Texas).
April 3, 1976-January 3, 1977 – Serves as a member of the U.S. House of Representatives for Texas' 22nd district, replacing Robert Casey who is appointed to the Federal Maritime Commission.
November 1976 – Loses bid for re-election to Democrat Robert Gammage.
January 3, 1979-January 3, 1985 – Represents Texas' 22nd District after beating Gammage in the 1978 election.
May 1983 – Loses primary to Representative Phil Gramm (R-Texas) for John Tower's Senate seat.
November 8, 1988 – Unsuccessfully runs for president of the United States as the Libertarian Party candidate.
November 7, 1996 – Defeats Charles Morris and is elected to the U.S. House of Representatives as a Republican for the 14th District of Texas.
January 7, 1997- January 3, 2013 – Represents Texas' 14th District.
March 12, 2007 – Files a statement of candidacy with the Federal Elections Commission to run for president as a Republican, officially entering the race for the White House.
June 12, 2008 – Suspends his presidential campaign.
May 13, 2011 – Announces his run for the presidency in Exeter, New Hampshire.
July 12, 2011 – Paul announces he will not seek re-election for his Congressional seat in 2012.
January 3, 2013 – Retires from the U.S. House of Representatives.
August 5, 2015 –
Three of Paul's aides from the 2012 presidential campaign are
indicted
for conspiring to pay an Iowa state senator $73,000 to secure his endorsement before the state held its caucuses. The senator had previously supported Michele Bachmann. Two of the aides now help run America's Liberty PAC, a Super PAC promoting Paul's son, Rand for president in 2016.
Read more: http://www.cnn.com/2013/03/07/us/ron-paul-fast-facts/index.html