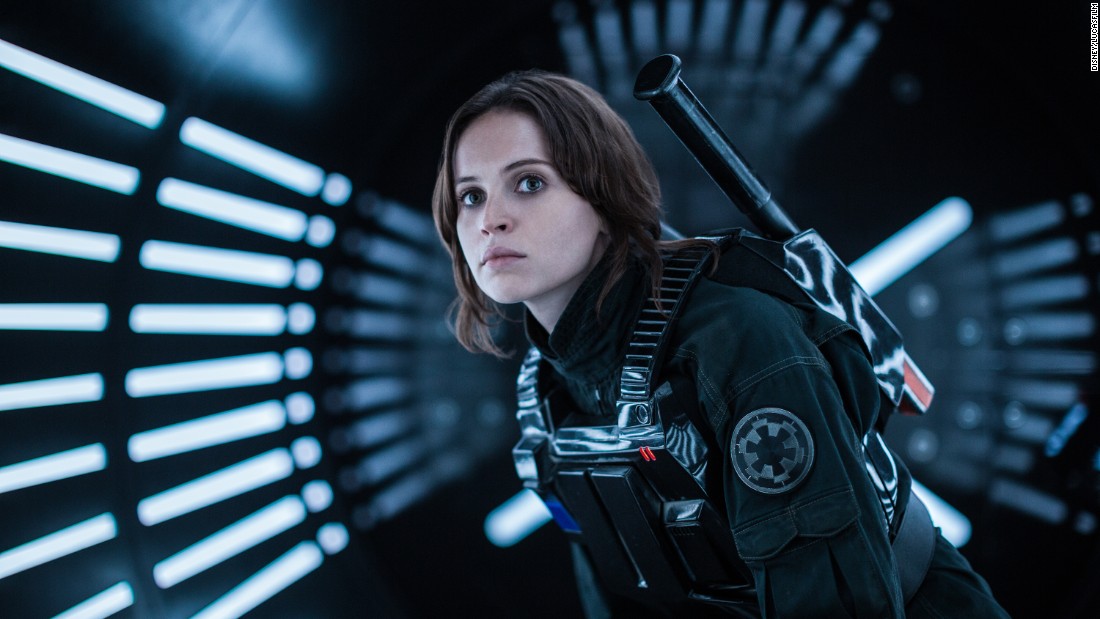 (CNN)"Rogue One: A Star Wars Story" answers the question of whether that galaxy far, far away is big enough to sustain multiple offshoots with an emphatic yes, delivering an extremely muscular and satisfying expansion of what had been, under George Lucas, a rather underdeveloped universe.
Disney's acquisition of Lucasfilm came with a pragmatic mandate to churn out "Star Wars" fare, including stand-alone stories separate and distinct from the primary trilogies.
And "Rogue One" does feel different from the main movies, darker, grittier — much closer in tone to an old war movie. Indeed, the production notes draw appropriate comparisons to the 1961 World War II classic "The Guns of Navarone," another film about a team of strong-willed individuals thrown together to undertake a secret mission against a malevolent empire.
<
ul class="cn" cn-list-hierarchical-xs cn–idx-4 cn-zoneadcontainer">
Still, this is essentially the real long-lost prequel to "Star Wars," just 39 years later, and director Gareth Edwards has the advantage of being able to incorporate plenty of crowd-pleasing callbacks to the original.
The ways in which the filmmakers managed to forge and realize some of those connections — even with modern technological conveniences, which include the ability to seamlessly replicate settings from the first film — will surely leave many audience members agog, and occasionally elicit whoops and hollers. And while some flourishes, like Darth Vader's sinister presence, have been revealed in advance, there are enough small touches thrown in to keep fans happily consuming the movie to collect them all.
The story, admittedly, requires a bit of time before taking shape as it fleshes out a central facet of the "Star Wars" chapter subsequently christened "A New Hope" — namely, that Princess Leia had to get those stolen Death Star plans from somewhere.
The backstory can be traced to a prologue, involving a scientist, Galen Erso (Mads Mikkelsen), and his young daughter, Jyn, played once she's grown up by Felicity Jones.
Galen designed the Death Star, and he's yanked from retirement by Krennic (Ben Mendelsohn), a ruthless Imperial officer. Like a lot of cinematic orphans, meanwhile, Jyn has experienced a hard-knock life, before the daring rebel spy Cassian Andor (Diego Luna) recruits her, as the rebellion hopes to use Jyn to help uncover means of neutralizing the planet-destroying weapon.
It all feels pretty haphazard for a spell, until Cassian and Jyn get some skilled help, including a pilot ("The Night Of's" Riz Ahmed) and blind monk (Hong Kong martial-arts star Donnie Yen), whose faith in the Force is matched only by how well he wields a staff.
As noted, a lot of this is relatively grim — down even to the movie's initial color palette — and not especially suited to younger kids. The only consistent source of comic relief is a hulking, reprogrammed Imperial droid, K-2S0 (voiced and performed by Alan Tudyk), who delivers wry, cleverly written commentary and, like C-3PO, has a bad habit of detailing what long odds they face.
Despite
talk about reshoots
that preceded "Rogue One's" release, once the action gets going, the pacing moves briskly and doesn't let up. The second half of the movie builds in intensity, showcasing not only some dazzling visuals but a few sequences that prove genuinely thrilling.
"Rebellions are built on hope," Jyn states, seeking to rally the alliance.
On screen, the fringes of this galaxy have largely been explored, quite well, via TV animation. Given Disney's grandiose movie plans for the fcranchise, faith in its "Star Wars" stewardship will be built on delivering projects worthy of those familiar strains of John Williams' music.
Watching this maiden launch from that perspective, "Rogue One" is, indeed, cause for considerable hope.
(Disclosure: My wife works for a division of Disney.)
"Rogue One: A Star Wars Story" opens in the U.S. on Dec. 16. It's rated PG-13.
Read more: http://www.cnn.com/2016/12/13/entertainment/rogue-one-review/index.html