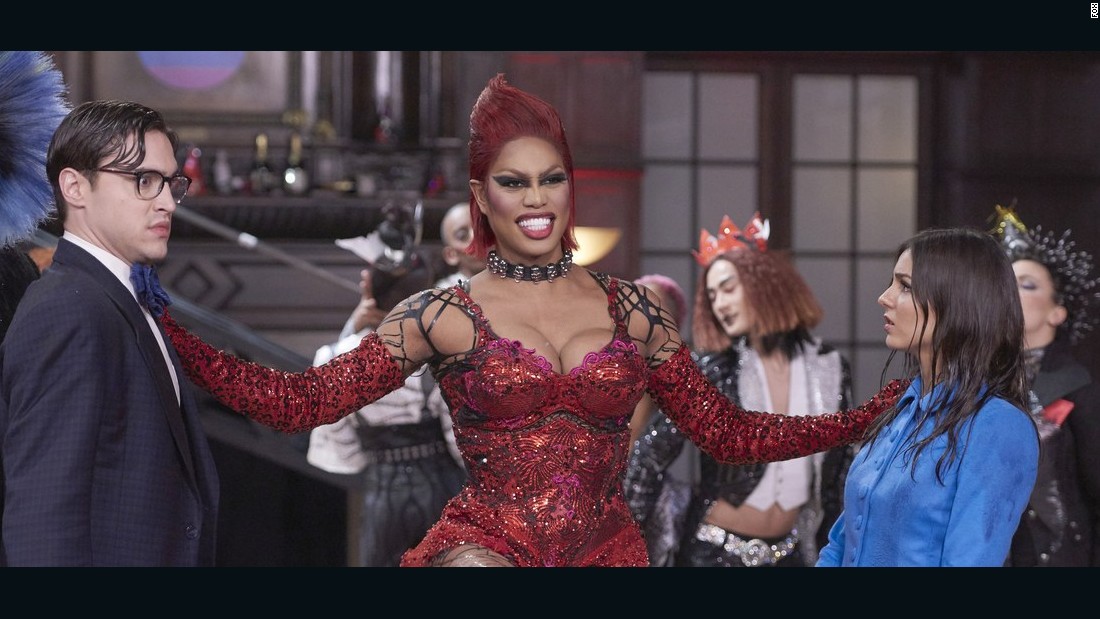 (CNN)Movie remakes can follow two paths: Re-imagination, or replication. Despite being billed as the former, Fox wisely pursues the latter route with "The Rocky Horror Picture Show: Let's Do the Time Warp Again," an energetic redo of the 1975 musical, which starts well and perhaps inevitably peters out long before it's over.
Purists are within their rights to ask why Fox would bother tampering with happy memories of that strange visitor from Transexual, Transylvania, but in Hollywood terms, nearly two generations is a respectable time-lapse before raiding the vaults.
As for whether director Kenny Ortega — a veteran of everything from "Newsies" to "High School Musical" — can bring anything new to the party, the answer's largely no, other than a modest upgrade in choreography and a self-conscious nod to the midnight-showing crowds that turned the original into an early form of interactive entertainment.
<
ul class="cn" cn-list-hierarchical-xs cn–idx-4 cn-zoneadcontainer">
The framing device incorporates an audience in a rundown theater watching the movie, occasionally punctuating the dialogue ("Say it!") with their interjections. After a series of live musicals on NBC and Fox's "Grease," the flourish was understandable, but unnecessary.
"Rocky Horror's" sexual politics seem considerably less jarring than they were during the Ford administration, and in any event, this version's main goal is commerce.
That means the sensory pleasures stem from seeing new actors seek to inhabit these roles. The producers have largely succeeded on that score, with Laverne Cox taking over as the lusty, sexually omnivorous Dr. Frank-N-Furter, and Ryan McCartan and Victoria Justice as Brad and Janet, the squeaky-clean young couple that stumbles into his lair.
There are other standouts, such as Reeve Carney's uncanny sound-alike portrayal of Riff-Raff's Richard O'Brien, who happened to author the original songs and co-write the movie. O'Brien has criticized the project, including its casting, although original star Tim Curry gives his tacit blessing by playing the narrator, despite having suffered a stroke in 2012.
"Rocky Horror" was never about its plot, but rather the catchy tunes, hedonistic indulgence, homage of classic sci-fi and sly humor. Only part of that survives the translation, and the producers have been forced to lop off roughly 15 minutes and soften the more prurient edges (rest easy, Susan Sarandon, your "Touch-a Touch-a Touch Me" remains the standard).
A former Nickelodeon star, Justice was nonetheless a shrewd choice as Janet, who has her sexual appetites awakened; and Cox exhibits considerable flair — singing and dancing up a storm, while modeling an assortment of gaudy frocks — in portraying Frank-N-Furter.
What this "Rocky" ultimately lacks is a requisite spark. The act breaks feel awkward and clunky — a built-in challenge when migrating movies to TV — and the dual seduction scene is disappointing. Some of the cinematic references are also understandably dated for target demographics that probably aren't well versed in Steve Reeves movies, or even Anne Francis.
Still, even if the movie doesn't live up to the anticipation, there's a kick in reentering this time warp. And while it's not a fresh take, as Frank-N-Furter might say, that isn't all bad.
"The Rocky Horror Picture Show" airs October 20 at 8 p.m. on Fox.
Read more: http://www.cnn.com/2016/10/18/entertainment/rocky-horror-picture-show-review/index.html