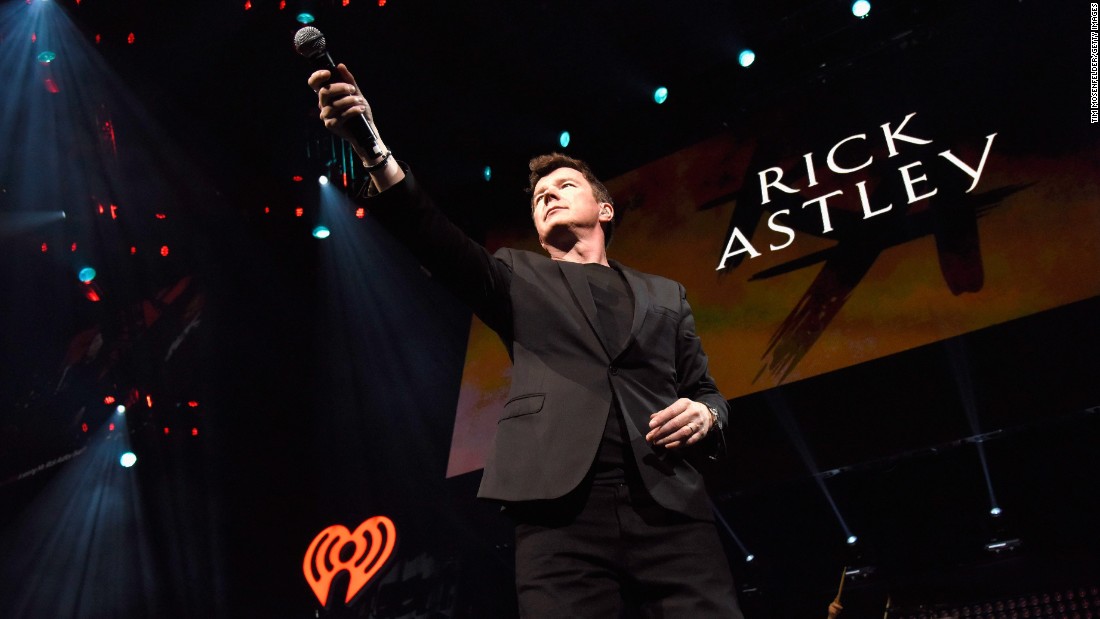 (CNN)Yes, Rick Astley has been rickrolled before.
The musician told CNN that years ago, when a friend emailed him a link and the video for "Never Gonna Give You Up" appeared, he didn't realize it was a prank.
"I thought, what is he doing? This isn't actually very funny," Astley said of the moment. "Then he did it again. Ultimately, I called him and he said 'Don't you know what this is?' I said 'No, you are just an idiot' and he explained to me that it was this thing."
<
ul class="cn" cn-list-hierarchical-xs cn–idx-5 cn-zoneadcontainer">
It actually became a big thing.
"Rickrolling" — a bait and switch using disguised hyperlinks to Astley's video — is an internet phenomenon that just keeps rolling.
So does the man who inspired it.
Now 51, Astley is still singing and touring — three decades after "Never Gonna Give You Up" became an international hit.
The ongong fascination with Astley as a singer could be attributed to the catchy nature of that tune, along with the "Are you serious?" reaction that a soulful, baritone voice could be come from a ginger-haired, angelic-faced guy from Newton-le-Willows, United Kingdom.
Success came so fast at age 21, Astley said, he barely had time to adjust to it.
Two weeks before "Never Gonna Give You Up" climbed to the top of the charts, Astley was helping his brother do work in their dad's garden center.
"I can't really regret any of my past," Astley said, but acknowledged he could have loosened up a bit more as a young star.
"Looking back, I think I felt a responsibility to be who everyone thought I was, this clean-cut guy who sings this nice pop song," he said.
After his follow-up hit "Together Forever" and a few more albums, Astley retired at 27.
He and his wife, Lene Bausager, focused on raising their daughter.
But Astley never stopped loving music or making it.
His new album — titled "50" — evolved somewhat accidentally.
"I did it in the studio at home," Astley said. "I wrote all the songs. I played all the instruments. I was just putting some songs together."
The result is an intensely personal collection of tunes that his former record label loved.
Astley said he's more laid back these days. He's making music as much for himself, as to be heard.
"I didn't do [the album] to please anyone else, whatsoever," he said. "I've gotten to an age where to write about personal things from my childhood and onwards, I felt ok to do."
The new music has been a hit across the pond. Astley, who hasn't toured in the United States since the 1980s, is hopeful he'll re-find an American audience, too.
"I'd like people in the States to be able to enjoy the new songs, as well as the old songs," he said. "As much as I joke about it onstage, I really don't want them going for beers when I'm doing the new stuff."
Astley said he's a fan of many of the newer British artists, including Adele and Sam Smith.
He also said he's glad he became famous prior to the age of camera phones and constant paparazzi.
But the best thing about being Rick Astley, according to the singer, has nothing to do with fame or being one of the biggest memes on the internet.
"I'm surrounded by people who love me," he said. "And they let me know that."
Read more: http://www.cnn.com/2017/02/16/entertainment/rick-astley/index.html