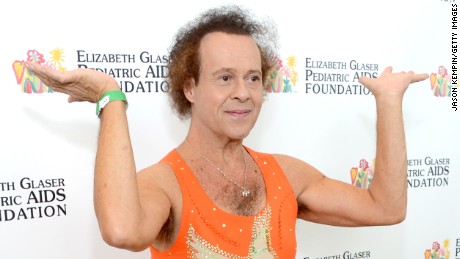 (CNN)According to Richard Simmons he is staying Richard Simmons.
The fitness guru is denying reports he is transitioning to become a woman.
<
ul class="cn" cn-list-hierarchical-xs cn–idx-4 cn-zoneadcontainer">
"Some tabloids have recently falsely reported that I am transitioning," Simmons posted Tuesday on his official Facebook account. "In response, I feel compelled to set the record straight and refute these lies. Although I am not transitioning, I have and always will be supportive of those who are going through their journey."
Simmons has been very active lately refuting stories about his private life.
He recently spoke out regarding being hospitalized, saying he was just dehydrated and not exhibiting bizarre behavior as had been reported.
There has been much concern about the beloved celeb due to his years long absence from the spotlight, which he has attributed to wanting to have a more private life.
Simmons also addressed in his Facebook posting his sadness over the mass shooting at a gay nightclub in Orlando, Florida.
"We should not lose focus on showing love, strength and compassion to all of the LGBT community during these tragic times," Simmons wrote. "My broken heart and healing thoughts are with the people of Orlando and all other victims of prejudice, bigotry and hate."
Read more: http://www.cnn.com/2016/06/15/entertainment/richard-simmons-not-transitioning/index.html