Guardian investigation reveals, two years after Jeremy Corbyn became Labour leader, that party within a party has become a major force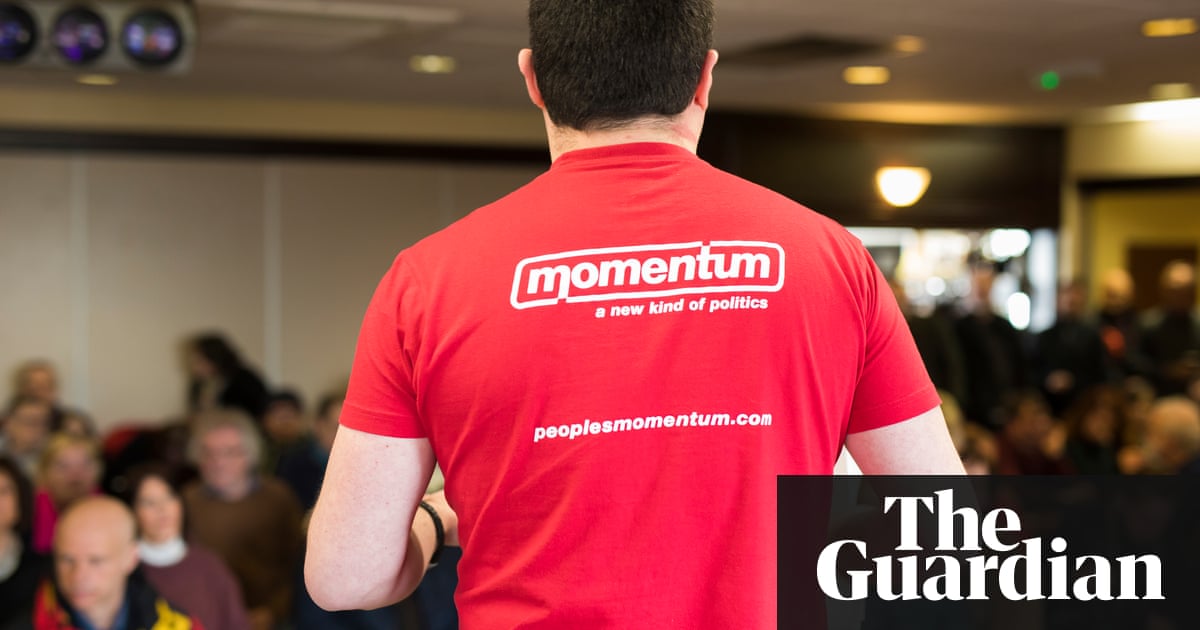 Momentum is a powerful and increasingly independent political force that is radically transforming the Labour party, with local groups challenging party orthodoxies, flouting national membership rules and fighting to get their activists selected, a Guardian investigation has revealed.
A grassroots reporting project across four local parties demonstrates that Momentum, often described as a party within a party, has rapidly become the most powerful force on the ground with Labour members frequently defining themselves as for or against it.
Some groups are even prepared to defy the wishes of Jeremy Corbyns office to support their chosen candidates in parliamentary selections, while a rule that bans non-Labour members from joining Momentum is frequently ignored in practice.
In Mansfield, Momentum and local party officers went against the Labour leadership to reject the Corbyn aide David Prescott in favour of the council leader, Sonya Ward. Ben Timberley, a trainer with Momentum, said: Having a local candidate, not parachuting somebody in, every constituency needs that if they are going to win.
In Brighton and Hove, where party membership has tripled since 2015, Momentums influential city-wide group hopes to secure at least a dozen seats on the Labour-run city council in the next elections in May 2019.
Greg Hadfield, a Momentum organiser, who has been suspended by Labour, said: We have a real chance of winning the first socialist majority on Brighton and Hove city council in the elections in May next year.
Momentum says it has more than 36,000 members nationally and is signing up more than 200 people a week.
But there are also signs of a fightback in other places. Momentum-backed candidates have won only a third of 45 parliamentary selections so far, according to analysis by the Guardian, though the group says it has not backed a candidate in every race. In some local parties, centrist members are actively organising to check its power.
In Lewisham East, members have rallied behind the MP Heidi Alexander to limit Momentums influence after a series of tumultuous meetings following her resignation from Corbyns shadow cabinet in 2016. But the group is strong in neighbouring Lewisham Deptford, and figures banned from Labour, including Jill Mountford of the far-left Alliance for Workers Liberty, who stood against Labour in 2010, are influential within its ranks.
Formally, Momentum obliges all its members to also be Labour party members, under a rule change made last year in part to prevent it being infiltrated by far-left groups, but in practice the rule is not strictly applied. Mountford told the Guardian, in or out, it wont stop me organising Momentum, and going out and canvassing for Labour, while at a meeting she said councils should protest against government by setting illegal budgets.
A meeting in Brighton last month also heard a personal statement from Tony Greenstein, who had only a few days earlier been expelled from Labour over allegations of anti-semitism, which he denies. A Momentum spokesperson said: To join Momentum, you first have to be a member of the Labour party. If we receive a formal complaint about one of our 36,000 members, we will process it in accordance with Momentums complaints policy, code of ethics and constitution.
In Morecambe, the Momentum-backed Erica Lewis lost a campaign to be Labours prospective parliamentary candidate in a bitter selection battle that triggered an official complaint to the party. Local Labour figures urged the party to intervene after it emerged that Lewis was able to use Momentum membership lists to canvass before her rivals; she lost out amid the backlash.
Momentum-backed candidates who have already been selected to contest seats include the vicar Steven Saxby, a vocal Corbyn supporter who took part in a vigil in Walthamstow against the Labour MP Stella Creasy during a House of Commons vote on the Syria bombing. He has been selected to fight Cities of London and Westminster.
Others who were successful include: Paul Farmer, a former bus driver, in Camborne, Redruth and Hayle, Labours top target seat in the south-west; Greg Marshall in Broxtowe, the seat of pro-EU Tory MP Anna Soubry; and the music teacher Jackie Schneider in Wimbledon.
Candidates selected over Momentum candidates include Sally Keeble, the former MP for Northampton North, who has been selected to fight the seat again; and Peter Lamb, selected for Crawley and the leader of its borough council.
Another is the Lancashire Labour council leader, Azhar Ali, who is the partys nomination for Pendle. He recently signed a letter to the Times criticising Labour NEC interference in Haringey council in London.
Nationally, Momentum is arguing that Labours membership rules should be relaxed to end a ban on members of other political parties joining. As part of a Labour democracy review, Momentum has submitted that the rule be watered down to ban only people who are members of organisations clearly incompatible with Labours, such as the Conservative party.
With a general election most likely several years away, the idea of deselections is not high on the agenda among local groups. Sources said that Labours Hove MP, Peter Kyle, who has criticised Corbyn and supported alternative candidates in the 2015 and 2016 leadership races, could face a challenge from members wanting to have a full reselection.
Momentums submission to the national party also calls for the introduction of a form of mandatory reselection, where sitting MPs such as Kyle would have to demonstrate positive support from party members and affiliated organisations before being chosen again as a parliamentary candidate.
Read more: https://www.theguardian.com/politics/2018/mar/18/revealed-how-increasingly-powerful-momentum-is-transforming-labour