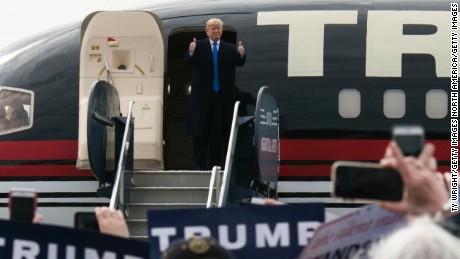 Washington (CNN)The last time Connecticut voted for a Republican presidential candidate, Americans were listening to music on cassette tapes and most cell phones were the size of shoe boxes.
Yet Donald Trump's campaign spokesman insists they believe he has a chance to turn Connecticut red for the first time since 1988, and that's why he is holding weekend rally there on Saturday.
<
ul class="cn" cn-list-hierarchical-xs cn–idx-4 cn-zoneadcontainer">
Veteran Republicans, however, see Trump's Fairfield, Connecticut, campaign stop as a fool's errand — a prime example of what many worry is a political operation that takes Trump's proclivity for defying convention a step too far.
Trump has spent most of his campaign time in real battleground states: Florida, Virginia, Iowa and Pennsylvania. But with the general election now in full swing, any time spent in a solidly blue state feels atypical.
Still, he declared it too early for him to be spending money, and compared himself to an "old race horse" saying he is hanging back to see what happens.
"I think we have some pretty good ads but we don't want to go too fast. Just nice and easy," said Trump.
But many Republicans wonder what Trump is waiting for, since Clinton has used time and money to define herself, and more importantly, Trump, without much of a retort.
"Getting buried by paid media is a very real problem. There is no worse feeling on a campaign than seeing your opponent hit you in a TV and you're not responding," said Barbour.
During the Republican primaries, Trump's strategy to rely on "earned media" — the fact that he was a celebrity candidate who deluged the airwaves with interviews — worked. He won despite hundreds of millions of dollars spent by his opponents.
But the general election is quite different. The electorate he must reach to win goes beyond the GOP base yearning for a populist, off-beat and sometimes off-color candidate like Trump.
Some Republicans outside the Trump campaign think paid advertising could be especially helpful for a candidate like Trump, who lacks discipline, to maintain a consistent message for voters. He has spent the past three weeks creating news story after news story with decidedly off-message comments — the biggest of which was going after Khizr and Ghazala Khan, Gold Star parents who attacked Trump at the Democratic convention.
Others, however, say they worry paid advertising is a waste of time if the candidate doesn't effectively mirror the messages in "earned media" — what Trump says on the stump or in interviews.
Money and organization