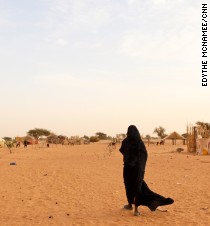 (CNN)Mauritania, the West African country long thought to be home to the world's highest percentage of enslaved people, no longer holds that lamentable title, according to a report released late Monday.
North Korea ranks worst on the index. Nearly one in five people there are thought to be enslaved.
<
ul class="cn" cn-list-hierarchical-xs cn–idx-4 cn-zoneadcontainer">
"Slavery is not a thing of the past, and we must stop thinking that it is," the Walk Free Foundation said in a statement issued to CNN. "The very nature of modern slavery means it is clandestine and hidden from view, but that doesn't mean it isn't everywhere. Every country in the world is affected."
Globally 45.8 million people are held in slavery, according to the report, which is based on random surveys in 25 countries, including Mauritania, and statistical modeling. That's a 28% uptick since the group's last slavery index report was released in 2014. But Fiona David, the Walk Free Foundation's executive director of global research, cautioned against reading too much into that increase or the decrease in slavery's prevalence in Mauritania. The group's ability to estimate the prevalence of slavery is improving over time, she said, so the trends may result in part from better stats.
Among the other key findings of the report:
"Though information on North Korea is difficult to verify, pervasive evidence exists that citizens are subjected to state-sanctioned forced labor, including through forced labor as political prisoners and as workers on overseas contracts."
"Uzbekistan has the second highest estimated proportion of prevalence of modern slavery by population. While some steps have been taken to address forced labor in the cotton industry, the Uzbek government continues to subject its citizens to forced labor in the cotton harvest each year."
"In 2016, we estimate 18.3 million people are in some form of modern slavery in India. This estimate reflects extensive surveying conducted in 2016 in 15 states. While many impressive efforts are being taken by the Indian Government to address vulnerability, survey data suggest that domestic work, construction, farming, fishing, manual labor and the sex industry remain sectors of concern."
David highlighted some positive developments as well, including the UK passing a law that requires large companies to report on what they're doing to root out slave labor in their supply chains.
That's a model for other countries, including the United States and China, to follow, she said.