Red Hot Chili Peppers frontman Anthony Kiedis was unexpectedly hospitalized Saturday, leading the band to cancel their headline performance at KROQ's Weenie Roast.
The 53-year-old singer was rushed from California's Irvine Meadows Amphitheater in an ambulance after experiencing "extreme stomach pain," a rep for the Los Angeles radio station told Billboard.
The remaining band members later took to the stage to announce the news to the waiting audience.
"[Kiedis] is on his way to the hospital right now and we're unable to play this evening. We are devastated about it, we're really sad. We love you so much," bassist Flea told the crowd,
as seen in video posted to Instagram.
"We live to rock, we live to f***ing dig deep into the depths of our hearts and rock, but unfortunately there's a medical thing that happened and we needed to deal with it, so we're unable tonight," he continued.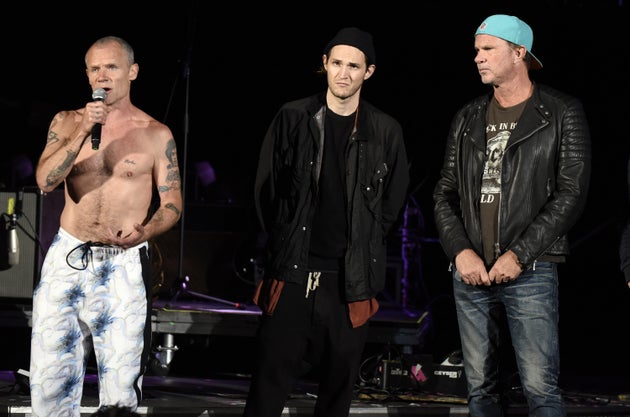 Tim Mosenfelder via Getty Images
<
figcaption class="image__caption" js-image-caption"> From left, band members Flea, Josh Klinghoffer and Chad Smith took the stage to announce that they would not be performing due to a medical emergency.
Drummer Chad Smith
also addressed their abrupt cancelation on Twitter, writing: "No one's more disappointed than us that we couldn't perform tonight. Sending love and a speedy recovery to my brother Anthony."
<
div class="content-list-component" text">
KROQ promised "more details to come" on its own Twitter account after announcing the news.
Weezer performed an extended set to close out the event, Rolling Stone reported. The event also featured a surprise performance by Blink-182.