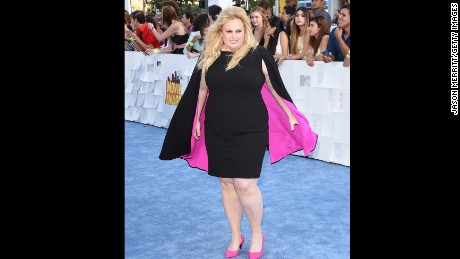 (CNN)Actress Rebel Wilson is hardly as shy as she once was, but don't look for her to be doing any nude scenes any time soon.
The "Pitch Perfect" star
told Marie Claire UK
in a recent interview that she has specific language in her contract pertaining to showing skin.
'[Filming 'The Brothers Grimsby'] They wanted full-frontal nudity," Wilson told the publication. "We write in the contract, specifically, 'No nudity.'"
<
ul class="cn" cn-list-hierarchical-xs cn–idx-4 cn-zoneadcontainer">
"They got in another girl — this larger burlesque dancer from South Africa — to be a nude double. And they got her to do all this stuff," Wilson said. "Sacha [Baron Cohen, her co-star] would go, 'See, she looks good.' I'm like, 'I'm not doing it. I don't care what you say.'"
The actress, 36, said she was painfully shy as a child, "bordering on a social disorder." Her mother found a unique way to bring her out of her shell, the Australian actress said.
"So my mum — one day she drives me to this community acting class," Wilson said. "I was holding on to the car door and crying. She had to peel me off the car. She's like, 'I'll pick you up in two hours,' And she left me."
While the actress, who will next be seen in the film "Absolutely Fabulous," has conquered her fear of people and acting, she said it would still take a lot to get her to strip down.
"You want to know that the people [behind the camera] have a certain sensibility and decency," Wilson told the magazine. "And a lot of times in comedy they're not those people."
Read more: http://www.cnn.com/2016/05/26/entertainment/rebel-wilson-nude-scenes/index.html