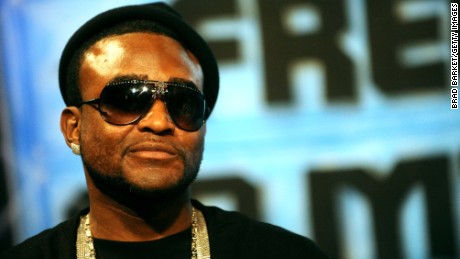 (CNN)Rapper Shawty Lo, known for his song "Dey Know" and an abandoned reality TV show about the mothers of his 11 children, died Wednesday after a car crash in Atlanta, his manager told a local radio station.
He was 40 years old.
<
ul class="cn" cn-list-hierarchical-xs cn–idx-4 cn-zoneadcontainer">
The Fulton County Medical Examiner's Office confirmed his death to CNN. The official cause of death is pending.
Born Carlos Walker, the Jonesbridge, Georgia, native was a founding member of the group D4L, whose song "Laffy Taffy" peaked at No. 1 on the Billboard 100 chart in 2006.
The song made it into the Guinness Book of World Records in 2007 as the most downloaded song. It was one of the biggest hits in the hip hop sub-genre known as "snap" music.
In a 2015 interview with radio station Streetz 103.3, Walker said he was in prison at the time his group was enjoying its chart success.
"I was facing 20 to 40 years on three different cases," he said. "I got a year on each case and all of them got ran concurrent. I came home to my group heating up to 'Laffy Taffy' in the streets."
Walker said during the interview that he was dealing drugs at the time and invested his money in his music. His grandmother's death when Walker was 17 left him on his own and he turned to the streets.
"When I was at the end of the dope game, that's when I became about the music because this was the only thing that was going to keep me living the lifestyle that I'm living," Walker said.
In 2008 he released a solo single, "Dey Know," which helped him win the "Rookie of the Year" award at the BET Hip Hop Awards the same year.
The Atlanta Journal-Constitution reported
that the car crash involved a white Audi that "went over a guardrail, hit two trees and burst into flames." Two women in the car were taken to a hospital, the newspaper said.
Hours before the crash, photos posted on Walker's
verified Instagram page
showed him partying at a local strip club.
Known as the "King of Bankhead" (though that title led to a dispute as many fans believe that fellow rapper and Bankhead neighbor T.I. held that title) for his affiliation and love for the Atlanta neighborhood, Walker was embraced by the industry.
He was mourned by several high-profile rappers, including Wu Tang Clan member Raekwon the Chef, who tweeted about Walker's death.
Walker was almost a reality star.
In 2013, Oxygen planned to premier "All My Babies' Mamas," a show about Walker's life as a rapper with 11 children by 10 women. The ensuing controversy about building a series around the stereotype of black unwed mothers and absentee fathers led to the show being canceled before it was broadcast.
But Walker expressed pride in his nine daughters and two sons during the 2015 interview.
"What people don't know is I had all my kids before I was a rapper," he said.
Read more: http://www.cnn.com/2016/09/21/entertainment/shawty-lo-dead/index.html