The Trump resistance has become sing-a-long-able, thanks to a 30-something man from Queens and his YouTube channel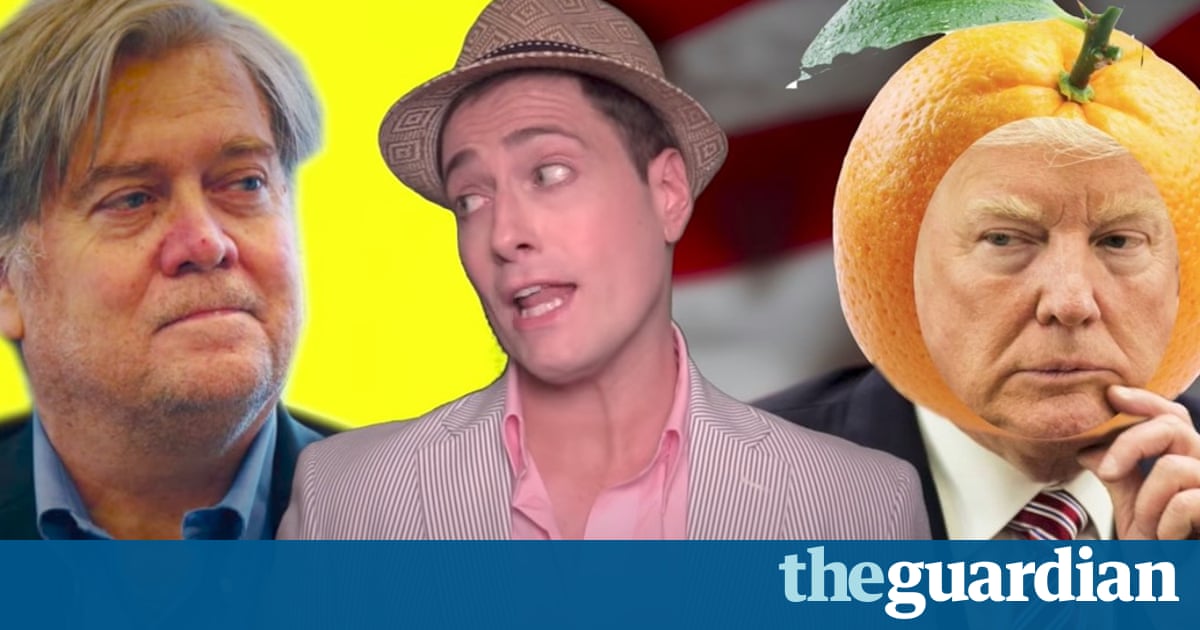 North Korea insists war with America is inevitable! Puerto Rico has no drinking water! Category 5 storms remake the coast of Florida! Meanwhile, the American president is calling football players sons-of-bitches, deleting tweets that promote failed Senate candidates and invoking Elton John lyrics to insult his North Korean counterpart in front of the UN. You know, while his campaigns under special investigation for collusion with Russians, street riots erupt against police racism and professional footballers and basketball players become militancys new avant-garde. The president, LeBron James said, is a bum.
Marshall McLuhan that strange, cat-brained media philosopher from Canada predicted all of this. Politics will eventually be replaced by imagery, he told an interviewer from the Toronto Star in 1972. The politician will be only too happy to abdicate in favor of his image, because the image will be much more powerful than he could ever be.
The successor to politics will be propaganda, not in the sense of a message or ideology, but the impact of the whole technology of the times, explained McLuhan. But as much as the technology of the times from cable news to Facebook shares and Twitter declarations have created the image of reality TVs first president, so they are facilitating the most effective means of his negation. By which I mean, specifically, YouTube clips made by a 30-something gay man from Queens named Randy Rainbow. That his real name, and hes taking Trump apart one Broadway showtune at a time.
Rainbow came to New York to find work as a performer. While working at Broadway World, he started making funny YouTube videos that he shared on social media. The first ones involved him using green screens and some clever home editing techniques to insert himself into interviews with celebrities, injecting satire and camp into the banal and the staged. But when Trumps presidential campaign gathered pace, Rainbows videos took a winning political turn. Rainbow wrote himself into the role of debate moderator in an edit of a Trump/Clinton encounter, and added his own rendition of a Broadway classic.
Trumps dangerous assumption of a right to power was suddenly sing-a-long-able to a tune from Mary Poppins. Thirty million people watched it. If only 232 million Americans had.
Rainbow still makes the videos mostly on his own and in his apartment, but now they appear fortnightly. This weeks is a Sound of Music tribute with Rainbow dressed as a nun and as a nun dressed as Elton John, singing How do you solve a problem like Korea? with a John-and-Taupin bridge. Rainbow can really sing and his comic timing is impeccable. Its not only hilarious, but a reinvigorating reminder that if politics are to be rendered in the form of entertainment, entertainments obliged to politicise itself in turn.
When Rainbow appeared after a White House shakeup, Yes, We Have No Bananas became Yes, We Have No Steve Bannon. Ive been singing the Rainbow rendition of Covfefe to West Side Storys Maria for weeks. Its remarkably easy to remember the words and the patter around them. Mr Trump, you have been successfully claiming to be the President for 100 days now, he begins one of his interviews with Trump, Congratulations. Another welcomes Trump adviser Kellyanne Conway. Kellyanne, great to have you, Rainbow flutters, I havent seen you in a while but, then again, I havent stood in my bathroom with the lights off and said your name three times into my mirror.
Im not the only commentator to declare that Rainbow is the best thing about the Trump era American columnist Dan Savage and gay newspaper The Advocate are both explicit fans, and Rainbows been profiled in publications from the Miami Herald to the New York Times. But Rainbow is not merely a symptom of these times, but a representation of its potential antidote (and hes not alone, for the satirical and cultural output of activity in resistance to Trumpism is broad-based, diverse and profound).
Trumps whole act is clumsy seizure of the cliches of American culture, his tiny mitts all over caps and flags, cheap steaks, bad TV, cable news and golf carts. Rainbow is drawing from a more powerful arsenal of American cultural values the wit and precision of its best entertainers, the slick presentation of its professional media and pop, and its unbeatable popular songbook of tunes youd have to assume Americans know better than <a href="http://www.nytimes.com/2010/09/28/us/28religion.html" data-link-name="in" body link" class="u-underline">their bibles.
Its not only of comfort to the resistance to have camp values deployed to expose the drag-king-like artifice of Trumps confected hyper-masculinity. Laughter and even temporary liberation from fear are a source of energy. Everyone knowing the words to the songs is the crucial first step to choral unison. And to find the strength to face whatever American action afflicts the world next week, we will need these all. We will need them all.
Read more: https://www.theguardian.com/commentisfree/2017/sep/29/randy-rainbow-taking-trump-apart-one-show-tune-at-a-time