In a world where
three Kardashian sisters are pregnant at the same time
(reportedly), one starts to wonder:
Am I pregnant?
Am I a member of this
pregnancy pact
too? When will Kris break the news to TMZ? Obviously, you have to be prepared so you know when to act like your pregnancy reports don't exist and go about your normal life while you watch everyone torturing themselves trying to figure out if the news is true. If the past week has taught us anything, it is that there is no greater power than a pregnant Kardashian/Jenner. So, are you pregnant too? Let's find out:
1. What letter does your first name start with?
a. K
B. T
c. Neither of those ugly letters
2. Does your mom(ager) desperately want a grandchild from you?
a. Ugh yes
B. Probably but she gave up on that for me long ago hahahhcrying
c. Nope, she wants me to focus on my career because she's a 21st century lady/that bitch knows she can't tell me what to do
3. Pick an animal
a. Chicken
b. Black lab
c. My Gucci fur slides
4. How do you handle stress?
a. Spend three hours trying to take a good selfie until I cry myself to sleep
B. Work out until I pass out, you know how it is!
c. Idk I just remind myself that I literally don't care at all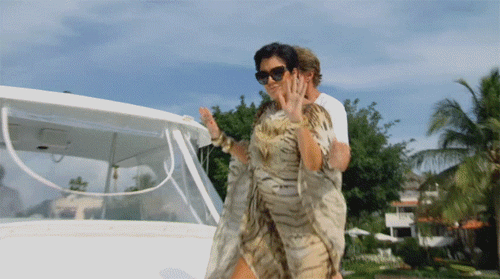 5. Of these names, which is your favorite for your (potential) baby? Yes, you have to choose.
a. Krystal
b. Lebron
c. Vegan
6. Where do you see yourself in 10 years?
a. Where I am right now haha oops! Got a little carried away!
b. In Fergie's "M.I.L.F. $ Part 2" music video
c. Far, far away from all the bullshit
If you got mostly A's: Yup, you're definitely pregnant. Bible.
As if you aren't the center of attention often enough, you are now pregnant and can milk this (haha) for a very long time. Rub my feet! Tell my I'm pretty! Buy my lip kits! This is going to be a beautiful journey for you and a fiery pit of hell for your mom and friends. Enjoy it while it lasts, because once that baby is out it's only a matter of time (20 years) before they shock the world with a pregnancy of their own.
If you got mostly B's: Bitch, you might be!
You're not NOT pregnant… you should definitely pee on a stick ASAP. You've been ready for this moment for years, so if it's finally here, congrats! You and whoever knocked you up should be very happy. Your friends and family will be overjoyed with the news and will be by your side every step of the way. And if that First Response responds with "nah, you're just bloated," we're sorry. Sorry that you're bloated, sorry that you're not pregnant, and sorry for repeating it now. It's nothing you haven't dealt with before, though! Way harsh, Tai? Whatever. Better luck next time.
If you got mostly C's: Hell no, skinny bitch, your crimson flow is still a'coming
Take a deep sigh of relief, you are not pregnant. At least, not this time. Keep on looking the hottest you ever have in your life; there's no baby bump forming inside you. This doesn't mean you're off the hook, though. Make sure your mom or gold-digging boy toy hasn't switched out your birth control with Smarties. Something weird is going on in your inner circle, and you don't want to get roped into that mess. Beware of the plastics.
Read more: http://www.betches.com/am-i-pregnant-quiz