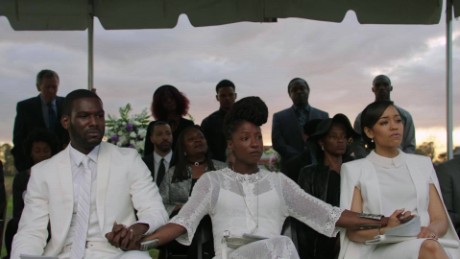 Los Angeles (CNN)OWN put on two new dramas this summer, and on paper they're virtually identical. Yet "Queen Sugar," which premieres this week, is much superior to "Greenleaf," a testament to how sharp writing, a good cast and more sober approach can elevate a familiar concept.
In the "separated at birth" department, both series are family soaps, built around a successful prodigal daughter returning home with her child after a death in the family.
OWN matriarch Oprah Winfrey
lent her name to the two enterprises
as a producer (and even has a recurring role in "Greenleaf"), so credit "Sugar" finding its dramatic sweet spot to "Selma" director Ava DuVernay, making her first foray into television.
<
ul class="cn" cn-list-hierarchical-xs cn–idx-4 cn-zoneadcontainer">
Adapted from Natalie Baszile's novel, the series features Charley (Dawn-Lyen Gardner), who is living an idyllic life in Los Angeles, managing the career of her NBA star husband (Timon Kyle Durrett). A scandal, however, shakes their seemingly perfect marriage, at the very moment that family upheaval brings her home to New Orleans, where her father's sugar plantation is in dire straits.
Things aren't so smooth either for Charley's sister Nova ("True Blood's" Rutina Wesley), who is having an affair with a married man; or her brother Ralph (Kofi Siriboe), who is lacking in direction while trying to raise his young son apart from the boy's drug-addicted mother (Bianca Lawson).
Nothing here feels especially new, but there's a sense of authenticity and an unhurried pace that quickly makes "Queen Sugar" (whose premiere will air commercial-free) pretty intriguing. Part of that is the setting in the Big Easy — the local flavor becoming another character in the drama.
The three episodes made available to critics are merely enough to garner a taste of where the series is heading, but in those hours the show nicely defines its characters and sets up hurdles for them that seem promising.
OWN hasn't always been the perfect manifestation of Winfrey's most ennobling ideals, and it has taken the network a while — through what amounts to trial and error — to find a programming identity. Still, this summer's offerings have raised the channel's game after it spent too long relying heavily on Tyler Perry's not-particularly-memorable contributions, including "Love Thy Neighbor" and "The Haves and the Have Nots."
So while OWN has hit some fallow patches as it joins other networks in tilling the scripted-drama fields, creatively speaking, "Queen Sugar" could represent its first bumper crop.
"Queen Sugar" premieres Sept. 6-7 at 10 p.m. on OWN.
Read more: http://www.cnn.com/2016/09/05/entertainment/queen-sugar-review-own/index.html