The young prince has been in the spotlight this week, as papers discovered his relationship with actress Meghan Markle
On Thursday morning outside Westminster Abbey, Prince Harry was in his element surrounded by hundreds of military personnel and veterans, all chatting among 60,000 tiny wooden crosses planted for a remembrance event.
After a week which began with him raging in public against the tabloid press and social media trolls for smears, racism and sexism in coverage on his blooming relationship with American actor Meghan Markle, he couldnt have looked happier.
Harry spent a decade in the army, including two tours of Afghanistan, and earlier this year described his service, which ended in 2015 as the best escape I ever had from the media spotlight. For the two hours he spent in the garden of remembrance, he seemed free again.
There were none of the death stares Harry occasionally shoots at royal reporters, and which some had expected after a week in which his spokesman railed against the racial undertones of comment pieces and the outright sexism and racism of social media trolls, in coverage of his new relationship with Markle, the daughter of a white father and African-American mother.
His mood was no doubt also boosted by Markles arrival in London. She was pictured shopping at Whole Foods in Kensington High Street on Thursday and returning to Kensington Palace where Harry lives. But as he talked animatedly and at length with soldiers, eye contact locked, body language relaxed and attention undivided, it was obvious the military is the 32-year-olds happy place.
I felt as though I was really achieving something, he said recently of his army career. I felt as though I was part of a team. All I wanted to do was prove to people I had a certain set of skills flying an Apache helicopter, for instance, rather than just being Prince Harry.
But in his low-ceilinged cottage in the grounds of Kensington Palace, he had spent the previous eight days getting increasingly angry at how just being Prince Harry seemed to be hurting people he cared for in his private life. His office was not confirming the relationship with Markle and so the royal news industry went into overdrive to fill in the gaps and to judge the suitability of the possible new princess.
Photographers and reporters stationed on the doorstep of Markles mother in Los Angeles and a photographer barging into his girlfriends garage in Toronto enraged him, as did a welter of press coverage.
This included a report on the front page of the Sun that she appeared on the adult website Pornhub, which she did, but not of her own volition and only in clips from her network TV drama Suits.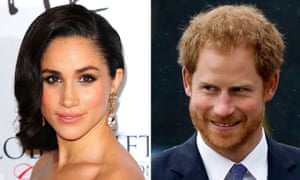 Read more: https://www.theguardian.com/uk-news/2016/nov/11/the-guardian-profile-prince-harry-meghan-markle-tabloids-invictus-games