Choice of Thomass Battersea makes four-year-old prince the first direct royal heir to be educated south of the river in London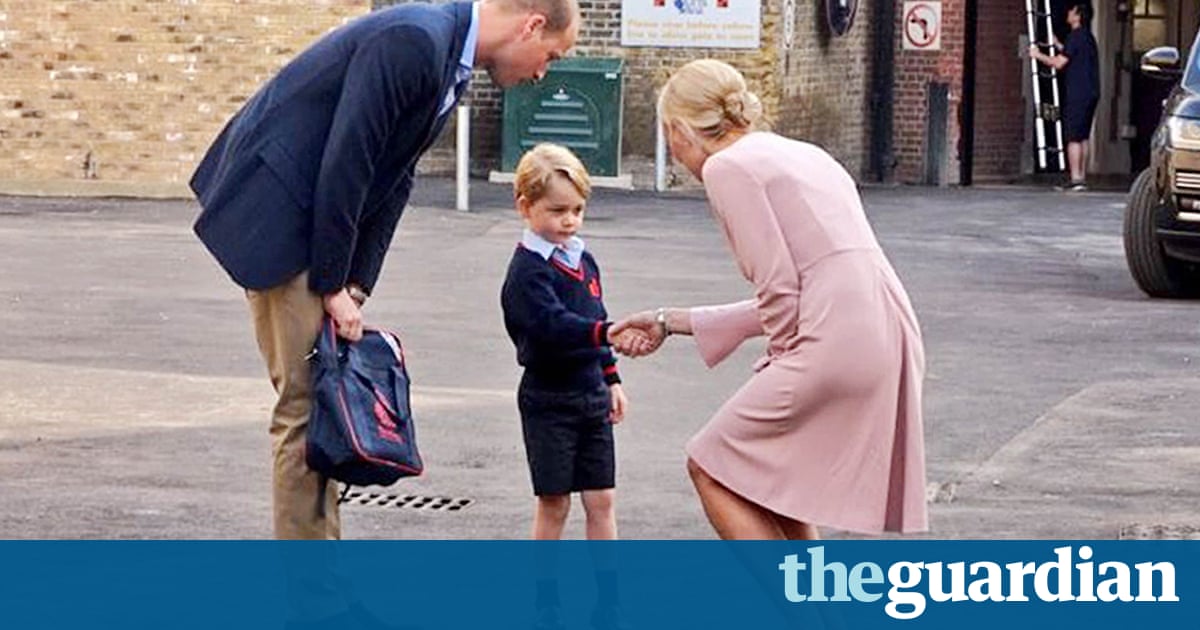 Prince George has started school; a royal enrolment that has upped the desirability of properties in the well-heeled environs of the south-west London prep school chosen to tutor the four-year-old.
Plans for the Duke and Duchess of Cambridge to accompany their firstborn on his first day were changed due to her recently announced pregnancy and the severe morning sickness she has been experiencing. Instead the duke did the school run solo.
A crowd of well-wishers had gathered outside the school gate to watch. The young prince arrived shortly before 8.50am and was driven through a side entrance and a security gate closed behind them.
The third in line to the throne arrived for his first day at 18,000-a-year Thomass Battersea, where he will learn to be kind, acquire confidence, leadership and humility and not have a best friend to prevent other children having hurt feelings.
Holding his dads hand and looking a little apprehensive, George walked from the car and then had a formal handshake with Helen Haslem, head of lower school. the duke was holding his sons school bag.
It was a low-level arrival as far as media were concerned. Unlike Williams first day, which was witnessed by a bank of photographers, the fiercely protective Cambridges stipulated only one TV camera and one photographer would be there to capture the moment of Georges first day.
The newest and most famous pupil, who will be known as George Cambridge, was escorted into the reception class.
Kitted out in his John Lewis uniform (also available at Peter Jones in Sloane Square) winter and summer uniforms, red art smock, and PE kit including black ballet shoes total more than 365 the young prince can look forward to a broad education.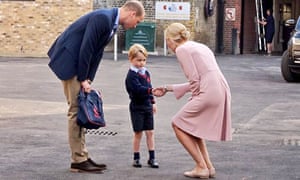 Read more: https://www.theguardian.com/uk-news/2017/sep/07/prince-george-arrives-for-first-day-at-18000-a-year-thomas-battersea-prep-school