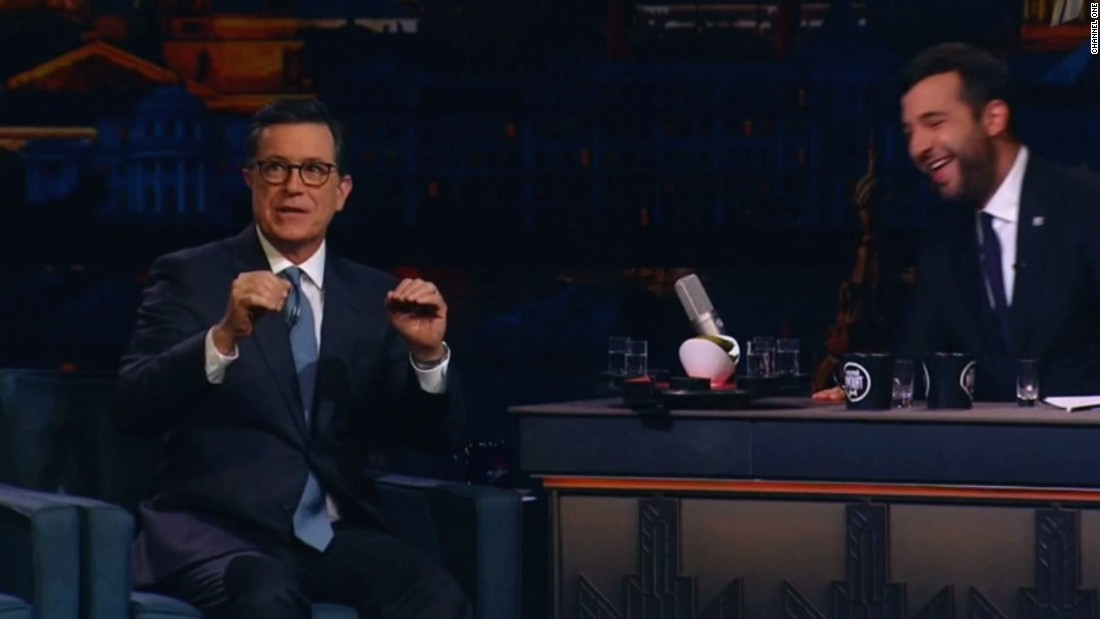 (CNN)"Ladies and gentleman, please welcome the 46th President of the United States: Stephen T. Colbert."
That has a nice sound to it, and given Colbert's
comments over the weekend
, perhaps the late night host is truly thinking of running against Donald Trump in 2020. And if he did, Colbert very well could be the ideal candidate to crush the current President come November 2020.
Colbert's remarks came Friday during an appearance on the Russian late night TV show, "Evening Urgant." While being interviewed by the show's host, Ivan Urgant, Colbert revealed that he had a big announcement. Then, with a straight face, Colbert
declared
, "I am here to announce that I am considering a run for president in 2020." As the audience applauded, Colbert quipped, "And I thought it would be better to cut out the middleman and just tell the Russians myself."
<
ul class="cn" cn-list-hierarchical-xs cn–idx-5 cn-zoneadcontainer">
He
added
, "If anyone would like to work on my campaign in an unofficial capacity, please just let me know."
Yes, Stephen Colbert was joking, but there's often truth in jest. And all joking aside, Colbert could be a formidable candidate: he is obviously well informed on the issues, as we see from his nightly monologue, has high name recognition, and hosts the
most-watched
late night show in America.
Perhaps those last two words are what a candidate Colbert would be uttering come election night in 2020. In fact, any of the late night comedians who focus on politics, such as Samantha Bee or Seth Meyers, could also be effective candidates against Donald Trump. (While John Oliver and Trevor Noah would also be great, unlike President Obama — who President Trump falsely claimed was born outside the United States — Noah and Oliver were actually born in foreign countries and are thus ineligible to run for President.)
<
div class="el__storycontent" el__storycontent–standard">Join us on Twitter and Facebook