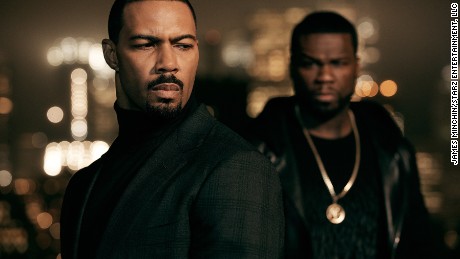 (CNN)Courtney Kemp knows she's fortunate to have her gritty crime drama "Power" airing on Starz.
"I'm able to put some kind of subversive content in this show dealing with racial politics without having it be right there on the surface," Kemp told CNN. "I get support from my network."
<
ul class="cn" cn-list-hierarchical-xs cn–idx-4 cn-zoneadcontainer">
Letting go and letting Kemp has paid off for Starz.
More than 2 million viewers watched the season 3 premiere of "Power" last Sunday — a 58% increase from the show's season 2 premiere episode. Soon after, Starz announced it had renewed "Power" for two more seasons.
Kemp is one of the few African American women in her role as a series creator and showrunner. She got her start in the New York magazine world writing for publications like GQ and Vibe, before heading to Los Angeles where she segued to TV.
That led to Kemp cutting her chops on series like "The Bernie Mac Show" and "The Good Wife."
Kemp is the power behind "Power" and said her "first job is to make a great show."
"You don't keep your job if you don't make a great show," Kemp said. "You can't be of service to as many people with jobs, and mentorship, and advice without having a platform from which to speak."
"Power's" main character is James St. Patrick (Omari Hardwick) — a drug kingpin known as Ghost who is attempting to go straight. St. Patrick's professional history is complicated by his tangled personal life and a murderous best friend. He may not sound like a loveable guy, but fans of the series have embraced its complicated characters.
"You have to be able to understand their motivations," Kemp said. "You may not agree with everything they do. At the end of season 2 when Ghost kills half their organization…you get it. You understand why he's doing it. It doesn't mean you support murder. You just understand Ghost's motivation."
Some critics of "Power" object to its stereotypical portrayal of people of color as drug dealers. But Kemp views that as short sighted.
"I find that amusing because I think, 'You don't get it.' The revolution is that we can be anything," Kemp said. "We don't have to be one thing, or the other. The idea that it is my responsibility to represent only good black people…I mean what are talking about? That's not a character, that's a polemic."
Kemp is protective of both her characters and her actors. So much so, she is bothered by the fans who are nasty to Lela Loren, the actress who plays prosecutor Angela Valdes.
On the show, Ghost has left his wife and family for Angela. Kemp said some fans are taking it very personally.
"Lela is not Angela. She is playing Angela," Kemp said. "She's an amazing actress and the reason you don't like Angela, if you don't, is because Lela is killing that part, so instead say 'Thank you.'"
Kemp said she is thankful to be working with such a strong team of actors and appreciates "Power's" devoted audience.
"I am not in the results business, " Kemp said. "I literally can't make people watch. But people showed up and I am just really grateful."
Read more: http://www.cnn.com/2016/07/22/entertainment/courtney-kemp-power-starz/index.html