<figure class="media-landscape" has-caption full-width lead">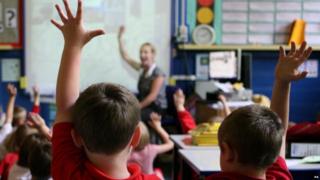 Image copyright PA

Image caption Higher rated schools tend to be located in wealthier areas
The poorest people are losing out on places at the best primary schools in England, research suggests on the day parents receive news of allocations.
The least wealthy families have less than half the chance of the wealthiest of sending a child to a top-rated school, analysis from Teach First says.
The teacher training group adds poorer families' children are four times more likely to be at weaker schools.
The government says many more pupils are now in good or outstanding schools.
The claim comes as councils say they will need 336,000 more school places by 2024.
<div id="bbccom_mpu_1_2_3″ class="bbccom_slot" mpu-ad" aria-hidden="true">