<figure class="media-landscape" has-caption full-width lead">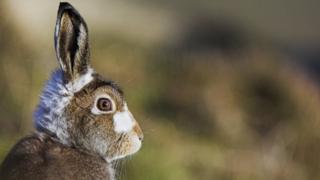 Image copyright SPL

Image caption The Scottish government said it was important that hare numbers were controlled
An animal charity has called on the Scottish government to impose a ban on mountain hare culling on grouse moors.
Landowners carry out culls from August that they say are necessary to protect game, such as grouse, from disease.
Campaign group OneKind said about 40% of the hares killed were shot for sport while about 50% died as part of organised culls.
The Scottish government said numbers needed to be controlled but it would not tolerate large-scale culls.
In its report, OneKind highlights three culls that took place on grouse moors, including two carried out last year on the Balmoral Estate in Royal Deeside.
<div id="bbccom_mpu_1_2_3″ class="bbccom_slot" mpu-ad" aria-hidden="true">