<figure class="media-landscape" has-caption full-width lead">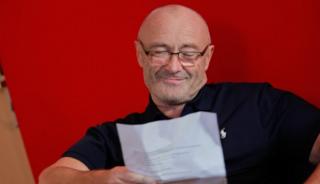 Image copyright Century

Image caption "I had this gaping void – no work and no family" – Phil Collins on his late-blooming alcoholism
Reclining in a spacious suite in an upmarket Kensington hotel, Phil Collins is polishing off a plate of chips.
"When this is done, could you get me a glass of white wine?" he asks his publicist.
The request comes as a surprise as the singer's new autobiography, Not Dead Yet, reveals for the first time the extent of his battle with alcoholism.
"Night after night I find myself lying on the bed, staring out of a skylight at grey Swiss skies, rueing my life," Collins writes about the impact that retirement, divorce and crippling back pain had on his life.
"I'm all alone, save for my good friends Johnnie Walker and Grey Goose."
<div id="bbccom_mpu_1_2_3″ class="bbccom_slot" mpu-ad" aria-hidden="true">