Chicago twins Deprice and Shaprice Hunt have set an extremely high bar for other high school seniors. The twins were recently accepted into a combined 56 colleges and have earned about $1.6 million in scholarships.
Kemitashi Austin brought the Hunt siblings' huge accomplishments to the forefront on Facebook when she shared a screenshot of a conversation between her and Shaprice.
Of the 56 schools, Shaprice has been accepted into 35 colleges, two of which have offered her a full-ride scholarship while five schools have scouted her to play basketball. She told The Huffington Post that she earned $1.3 million in scholarships. Shaprice wants to attend either Illinois State University or Eastern Illinois University and dual major in Education and Psychology.
Deprice, who is a youth activist in Chicago, has been accepted into 27 schools. He earned $300,000 in scholarships and received two full scholarship offers.
"My motivation was to make sure [my mom] didn't have to come out of pocket," Deprice told HuffPost, echoing his sister's sentiments.
His top choice is HBCU Morehouse College, which he said is his dream school. He also told HuffPost that he wants to study Performing Arts and Political Science.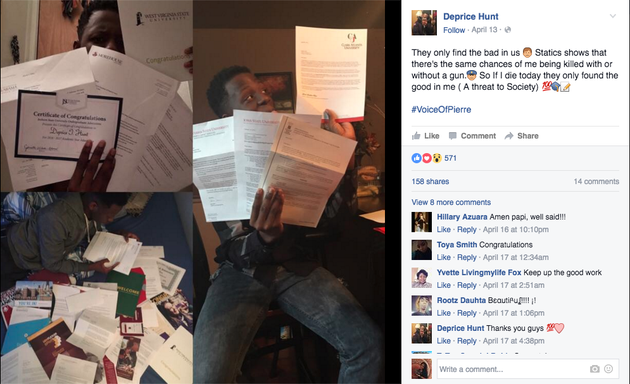 In addition to their acceptance letters and scholarships, the twins boast perfect attendance and a total of 48 awards throughout their high school years,
according to Deprice's Facebook
.
The Hunt twins credit their family, teachers and guidance counselors for their successes. They told HuffPost that it's easy, especially in Chicago, to let negative stereotypes about black youth get the best of someone. That's why, with the help of Austin, Deprice reached out to local news outlets to tell their story with the hope of inspiring others.
"A lot of people say you can't do it because of where you're from," Deprice said. "Don't listen to them."
The twins said they know financial issues, among other factors, hold a lot of teens back. But it's important to be persistent, Shaprice told HuffPost.
"Never give up," she said. "Picture your future. Not only to make yourself proud but make your family proud."
They said their hope is for every child, not matter their race or background, to have an opportunity to go to college. Deprice said it's important for him and his sister to continue to use their voices to inspire other teens, even after they go off to college this fall.
There's no doubt that they'll continue to thrive with this kind of wisdom and work ethic.
Read more: http://www.huffingtonpost.com/2016/04/19/phenomenal-twins-get-into-56-colleges-earn-13-million-in-scholarships_n_9730372.html