The 18th district will soon disappear but a loss for Republican Rick Saccone would shape the narrative ahead of the midterm elections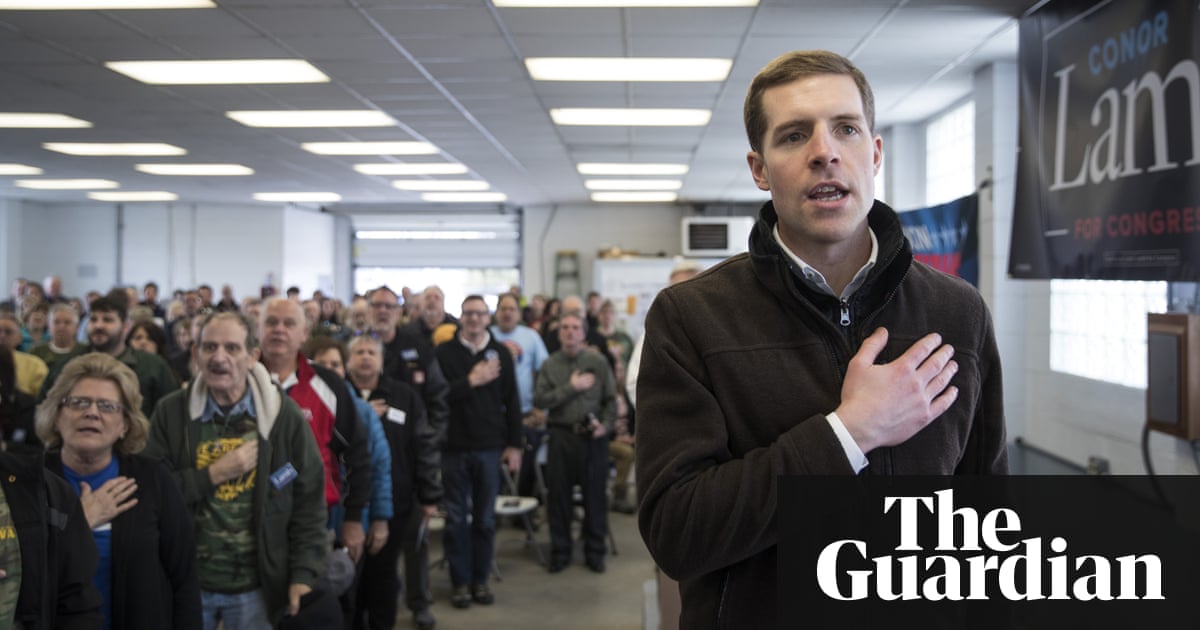 Tuesdays special election in Pennsylvanias 18th congressional district may be one of the most important races of 2018. It may also be one of the least consequential. The campaign between Democrat Conor Lamb and Republican Rick Saccone is for a House seat that will not exist in November.
But in a district that includes coal country and Pittsburgh suburbs in equal measure, the election has little to do with the current balance of power. It is about something much more important and much less tangible: the narrative.
The 18th is the heart of Trump country. In 2016, he won it by 20 points over Hillary Clinton. The House race is a dead heat.
Lamb is a 33-year-old veteran whose Homeric epithet could be square-jawed marine. He has run a well-regarded campaign, wooing suburbanites unhappy with Trump and blue-collar workers with Democratic roots who went Republican in 2016.
Saccone has floundered. A state legislator who claims to have been a diplomat in North Korea, he has been a weak fundraiser. National Republican groups have spent more than $10m to help him. The result has been a hodgepodge of ads, from a claim the Democrat is Nancy Pelosis little Lamb to touting Republican tax reform to simply bashing Lamb as weak on crime.
None of the attacks caught fire with voters, especially after Lamb recorded a straight-to-camera ad in which he said he would not support Pelosi.
The previous representative, anti-abortion Republican Tim Murphy, was forced to resign last year when it was reported he urged his mistress to have an abortion. In February, the race to succeed him took on a unique character when the state supreme court ruled the states congressional districts unconstitutional, due to Republican gerrymandering, and redrew the map. The result is that the 18th will be split, its Pittsburgh suburbs going into one district, the surrounding rural area to another.
Lamb has been old-fashioned. An event in Pittsburgh in February seemed more appropriate for early 20th-century Boston. Irish music blared through a banquet hall as an older crowd gulped beer from kegs and grabbed pretzels from shamrock-shaped bowls. Proceedings even closed with a rendition of Danny Boy. Former Maryland governor Martin OMalley was there to lend a hand.
On Sunday in Waynesburg, Lamb appeared with the head of the United Mine Workers, Cecil Roberts. Waynesburg is the seat of Greene county, which Trump won by 40 points and Ronald Reagan, in his 1984 landslide, lost by 20. It could be ground zero for Trump Democrats. At Lambs event, the room filled with white men in camouflage jackets and union hats.
George Campbell, a retired miner from Westmoreland, told the Guardian he was there because he had received a letter from the union. Although the terse, mustachioed 68-year-old said he voted Democrat more than the other, his choice in 2016 wasnt Hillary. He was just worried about his pension, he said, adding that in the voting booth, I pretty much go with what the union says.
His union did not endorse in the 2016 election but now its leader was all out for Lamb. In a fiery speech, Roberts hailed the Democrat as a God-fearing, union-supporting, gun-owning, job-protecting, pension-defending, social-security-believing sending-drug-dealers-to-jail Democrat.
They have a hatred for God