<figure class="media-landscape" has-caption full-width lead">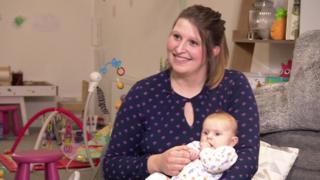 Image caption Fiona Sutcliffe, 29, from Sheffield took part in the scheme with her baby girl
Offering shopping vouchers to new mothers can encourage them to breastfeed their babies, a study published in JAMA Pediatrics has found.
About 10,000 new mothers in Yorkshire, Derbyshire and Nottinghamshire were offered up to £200 in vouchers as an incentive.
Breastfeeding rates increased in these areas, which typically have low uptake.
The vouchers gave mums a "lift" and helped them feel part of a network, according to the researchers.
They could be used to buy food, household items, toys, clothes, books, DVDs or music in supermarkets and other shops.
<div id="bbccom_mpu_1_2_3″ class="bbccom_slot" mpu-ad" aria-hidden="true">