<figure class="media-landscape" no-caption full-width lead">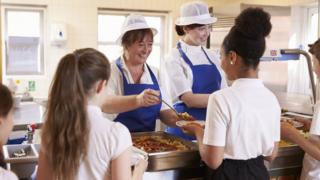 Image copyright Getty Images
The website of payment firm ParentPay has gone down, leaving some parents unable to transfer funds for school meals and trips.
The company normally serves more than 5,500 schools in 200 local authorities, helping about 1.5 million families.
The company said it was affected "by a national internet connectivity issue – impacting some users. This is out of our control and we'll update you."
Some parents said their children were unable to buy food due to the glitch.
ParentPay said payments had been suspended until the issue was resolved.
<div id="bbccom_mpu_1_2_3″ class="bbccom_slot" mpu-ad" aria-hidden="true">