In the early 90s, the punk bands unabashed sexuality encouraged other gay artists to come out. These days, they say, theyre living in the world we wanted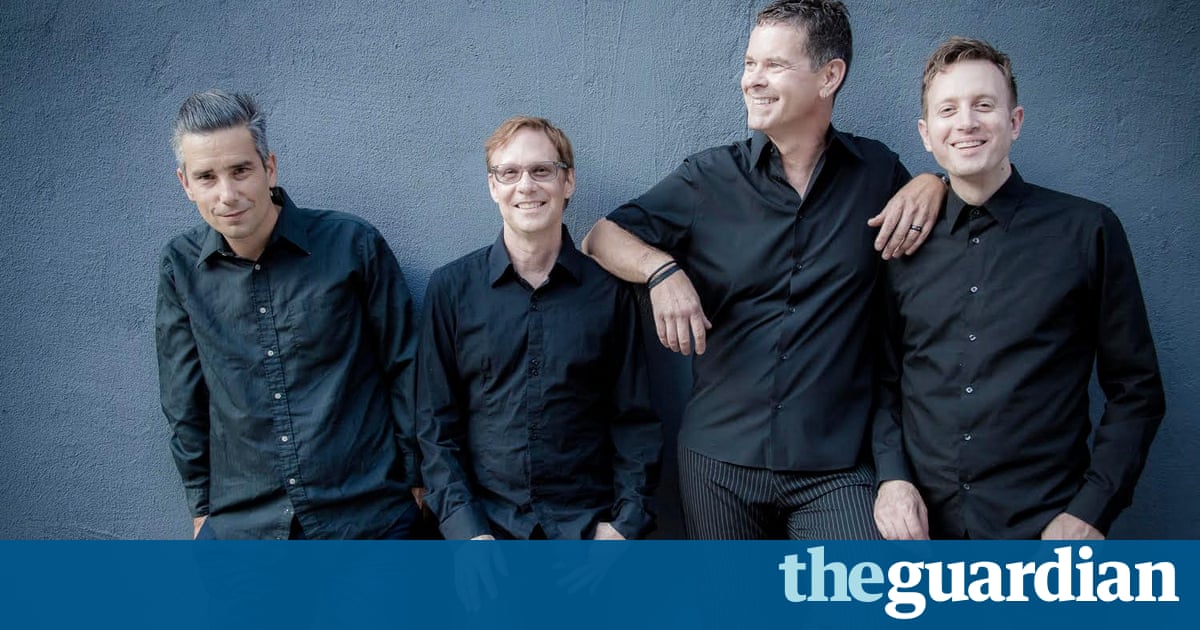 As a band, our mission was to not live in a world where there was not an out, queer rock band, says Chris Freeman, founding member of Pansy Division. We thought that should be in existence, so we did it ourselves.
High-energy, queer and unapologetically punk, Pansy Division have just released their ninth album, Quite Contrary, their first since 2009s Thats So Gay. Combining trademark uptempo power punk with a hefty dose of humor (after all, this is the band who released an EP of metal covers called For Those About to Suck Cock, We Salute You), it also marks the bands 25th anniversary. Freemans secret to longevity is simple: Dont break up.
The new album also gives the band a chance to look back at its legacy, both musically and in gay culture. Back in the early 90s, We were this openly gay rock band and MTV did a piece on us and we had that sort of impact on other musicians, so that they could come out of the closet and feel as if they are safe doing so and have no adverse reaction, says Freeman. Now Sam Smith can have a No 1 album and not have to worry. That, for me, is the world we wanted.
Freeman probably could not foresee Smiths career (or his existence) when he and Jon Ginoli founded Pansy Division in San Francisco 25 years ago. When Pansy Division started, ACT UP was a big thing in San Francisco, says Freeman of the legendary Aids activist group. You had all these people who were sick to death of the Reagan years where Aids was never mentioned and meanwhile people died. I actually had five boyfriends who died, so it hit me hard. The band stressed the importance of practicing safe sex with aptly and bluntly titled songs like No Protection.
After the trauma of the Aids crisis and the homophobia it unleashed, Pansy Division wanted to assert to the rest of the world that being gay can be great. We thought, if were being told that being gay is so wrong and were being ostracized for this, lets point out how well-adjusted and enjoyable our lives are. So it really was a conscious effort to say, Were not going to be sour about this, because thats exactly what I think they wanted to show how unhappy it is to be a gay person. We were singing celebratory songs about it instead. The bands songs like Twinkie Twinkie Little Star, 20 Years of Cock and Im Gonna Be a Slut celebrate not only gay sex, but the joys of being free to be who you are and love whoever you want.
The bands frenetic music and wild live shows got them signed to punk label Lookout! records, home to bands like Operation Ivy, Rancid, Alkaline Trio and Green Day. They broke through to a wider audience when Green Day invited them to open for them on their Dookietour in 1994. Suddenly, Pansy Division were blasting San Francisco queer culture at kids from smalltown America who, in those pre-internet days, had never seen anything like them before or heard such brash lyrics about the mechanics of gay sex.
Wed see people get angry by the third or fourth song and people were turning around and flipping us off, and then by the end of the 35 minutes, usually they were rolling around laughing because it was funny, says Freeman. But we couldnt really graphically explain the gay culture in 35 minutes. We could only start something.
Having such prominent role in one of 1994s biggest tours also loudly encouraged other artists to come out a legacy of which Freeman is justifiably proud. Within 18 months of doing that tour and meeting Melissa Etheridge and the Indigo Girls and Michael Stipe within 18 months they all came out of the closet and it had no negative impact on their careers, says Freeman. So as a social experiment, we were able to say yeah, we did it!
Freeman knows that Pansy Divisions mission didnt end with Etheridge coming out or even the existence of bands like the Scissor Sisters selling millions of records while being out and proud. As long as people in other parts of the world are being stoned to death or thrown off buildings or tortured for being gay, then we still have a mission, he says. We have certain factions in this country who dont want gay to be a norm look at Orlando. As long as someone can say, That voodoo God in the sky says gay is wrong, Im going to continue to knock down the door.
This sense of a mission has been intensified by the Orlando murders. Its sort of shocking to think that 20 years ago we couldnt have had a conversation about gay marriage. But now we have it. And yet people are still being killed because theyre gay. So youve got one side of the ship is going up and the other side is going down. We want to try and make the whole thing float if we can.
Read more: https://www.theguardian.com/music/2016/sep/15/pansy-division-queercore-gay-rock-band