Kieran Pender joins the Orica-Scott cycling team as they battle their way through the gruelling stage 17 of the Tour de France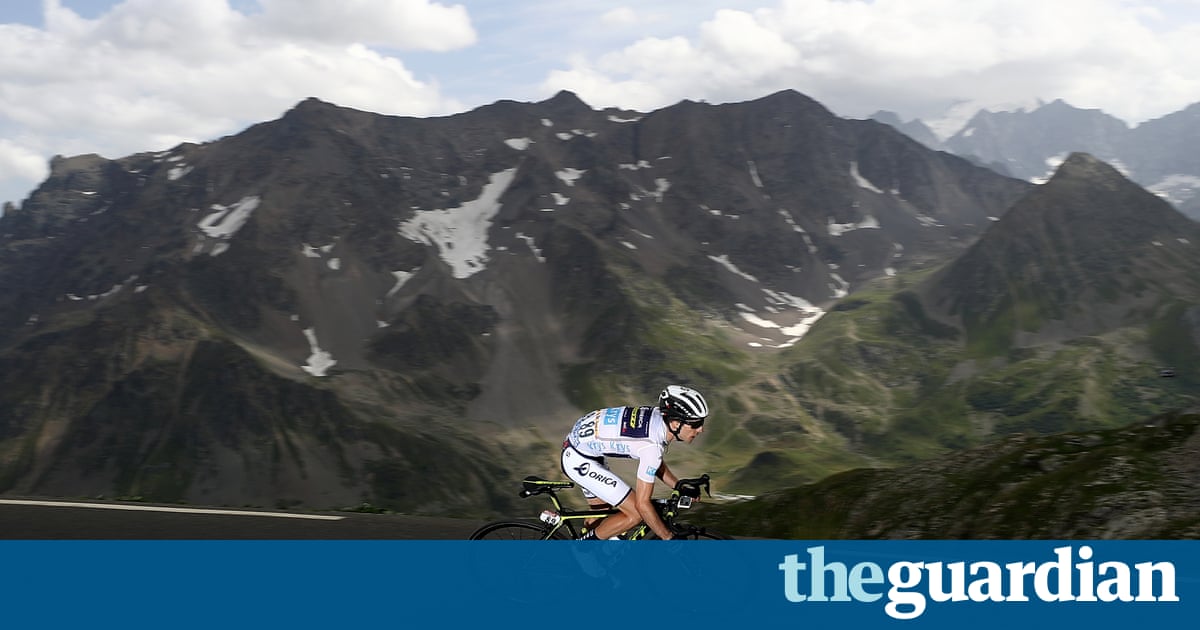 Since its establishment in 2011, Orica-Scott has become one of the leading teams in the World Tour peloton. The only Australian outfit competing at the highest level of road cycling, Orica-Scott has won stages at each Grand Tour and numerous prestigious one-day races.
In 2017, the team travelled at Tour de France start city Dsseldorf with a different goal in mind: Orica-Scott has come of age, and stage wins are no longer enough. The yellow jersey is the most prestigious prize in cycling, and it is firmly on team owner Gerry Ryans agenda.
While Ryans team has performed admirably in the overall rankings before last year Esteban Chaves placed second at the Giro dItalia and Adam Yates finished fourth in France the Tours 104th edition is the first time the team is entertaining just one objective: general classification success. Although Orica-Scott has attempted to manage expectations, with this campaign portrayed as a warm-up for an assault on the 2018 maillot jaune, they faced their toughest Tour yet.
This has nothing to do with luck
11:36am, Wednesday: Team Bus
In the scenic mountainside town of La Mure, Orica-Scotts team bus parks at the end of a kilometre-long throng of vehicles, bikes and people. True to form, the Australian-registered World Tour outfit is 19th of the 20 participating teams to arrive. We are not always last, a staff member jokes. But we are certainly never first.
Stage 17 is one of the toughest in the three-week race, the difficulty of multiple category two or tougher climbs compounded by tired legs. Today is a key stage, says Orica-Scott sports director Laurenzo Lapage. It is no longer a question of being fresh, but of being less tired than the other teams. Every day something can happen one weak moment and your Tour is over.
Given the challenging climbs ahead, keeping riders fed and hydrated throughout the stage is critical. Each evening the directors devise a plan for the following day, determining the placement of bottle-carrying staff along the course. It is quite the puzzle, Lapage admits. Riders can collect food and water from team cars by dropping to the back of the peloton, but doing so wastes precious energy.
With the start time rapidly approaching, head sports director Matt White initiates a pre-stage briefing. His colleague Matthew Wilson offers the weather report light winds, variable temperatures and a chance of rain before outlining each section of the course. White then takes over: I am not going to complicate something very simple. We know what we need to do today.
That something is to protect Brit Simon Yates, Orica-Scotts 24-year-old general classification contender. Yates is wearing the young riders white jersey and sits barely two minutes behind overall leader Chris Froome. This has nothing to do with luck, White tells his charges. We are here because we have ridden well as a team.
The likely tactics of rivals are briefly considered veteran Mathew Hayman interjecting occasionally before the days strategy is unveiled. White wants an Orica-Scott rider in the early break, someone who will be available to help Yates over the latter climbs. You are not there to win the stage, he says bluntly. Go as far as you can and then assist Yatesy. With Whites spiel over, the riders exit the bus wearing focused expressions. Yates mumbles some words to the media before riding to the start. I have had a few strong days and I am feeling good, he says.
Internet access can make or break your day
1:43pm, Team Bus
On the bus, driver Garikoitz Atxa winds his way through the Alps as a skeleton crew work away onboard. Most staff are roadside on bottle duty. Communications director Taryn Kirby taps at her laptop, sending out live race updates to Orica-Scotts 520,000-strong social media following, while videographer Anthony Drofenik naps; the teams popular backstage pass daily videos are often not uploaded until 2am, so sleep is at a premium. Reliable phone reception can also be scarce in small French towns internet access can make or break your day, says Kirby.
Orica-Scott has a well-earned reputation for being the most media-friendly team in the peloton. This is partly the work of owner Ryan, the Jayco caravans millionaire, who has often quipped that Orica-Scott are in the business of entertainment. It is also a by-product of being registered in Australia, where professional cycling lacks the mainstream popularity it enjoys in Europe, and necessitated by commercial imperatives. We do not make money in any other way, explains Kirby, so we need to help our sponsors.
While the communications director insists she would never prioritise press access at the expense of high performance objectives, it can be a difficult balance. During the Tour de France, Orica-Scott are being filmed for a forthcoming series on Amazon Prime. No other team would commit to that, says Kirby. The cameras are everywhere, even at times traditionally considered sacred by riders: on the bus and at meals.
After injured forced West Australian Luke Durbridge to withdraw from the Tour, Kirby faced a dilemma. Amazon wanted to film Durbo straight away, she says. It was an uncomfortable moment, but I decided that as he had withdrawn there were no longer any high performance considerations. Orica-Scotts transparency has won them fans and backstage pass now has a cult following. Many of us were initially quite confronted by the intrusion, says Wilson, who rode for Orica-Scott in its first year before becoming a sports director. But then it just became part of the team.
Read more: https://www.theguardian.com/sport/2017/jul/21/orica-scott-24-hours-on-the-road-with-a-tour-de-france-team