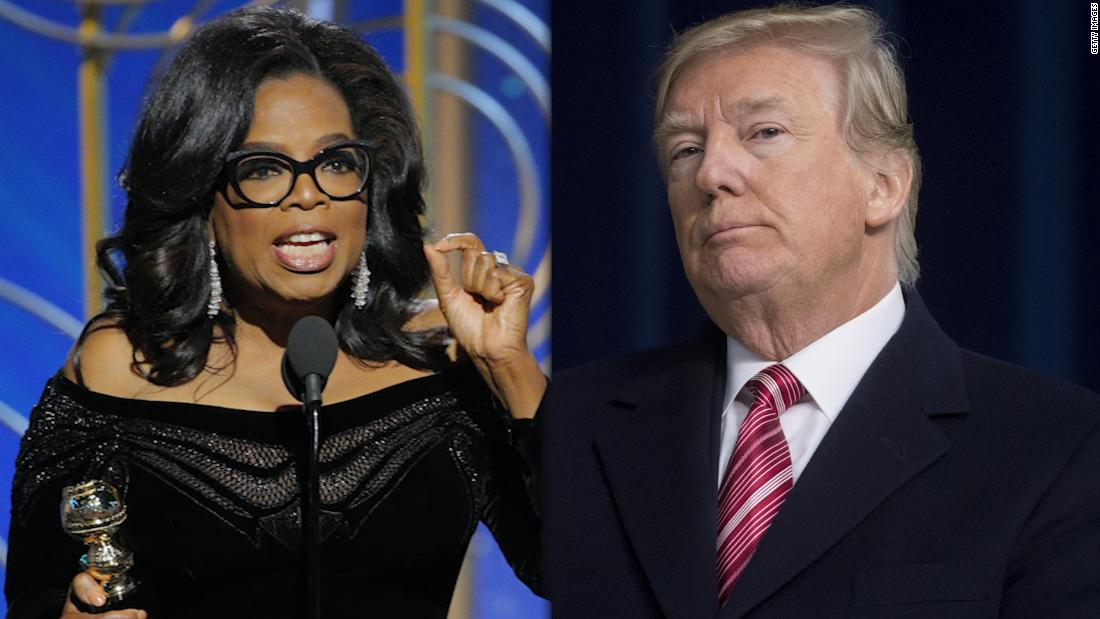 (CNN)Oprah Winfrey's speech at the Golden Globes on Sunday night prompted wishful calls for the star to run for president — and two of the TV icon's close friends told CNN that Winfrey is "actively thinking" about seeking the Oval Office in 2020.
Why not? President Donald Trump proved that a celebrity with no political experience could run for the highest office in the land and win.
Here's a look at some other celebrities who have recently floated runs for political office (some more seriously than others).
<
ul class="cn" cn-list-hierarchical-xs cn–idx-7 cn-zoneadcontainer">
Actually running
Antonio Sabáto Jr.
, an actor and Trump supporter who rose to fame as a star on "General Hospital" in the '90s, is
running
as a Republican to unseat Democratic Rep. Julia Brownley in California's 26th District race.
Sabáto has continued to embrace Trump throughout his 2018 campaign.
Stoking speculation
Mark Cuban, who became Trump's top critic from the reality TV and business world in 2016, said that although Trump might have poisoned the well for business leaders to run for office, it won't stop him from "considering" a 2020 run.
Olympic gold medalist
Caitlyn Jenner
said
in July that she is interested in the "the political side of activism" and "would look for a senatorial run."
"Can I do a better job from the outside? … Or are you better from the inside, and we are in the process of determining that," said Jenner, a lifelong Republican.
Dwayne "The Rock" Johnson,
the wrestling star and actor, first teased a potential presidential run in 2016, but he renewed speculation in 2017 when he
told GQ
in May that running for president is "a real possibility."
He later
told
Jimmy Fallon during an appearance on "The Tonight Show" that while he's not ready yet to enter the ring, "three-and-a-half years is a long ways away."
Kanye West
declared a 2020 presidential bid
during his speech at the 2015 MTV Video Music Awards, and while fans were unsure whether West was joking (he has yet to clarify), that did not stop his speech from going viral and sparking calls for #Yeezy2020.
West, who
met with
then-President-elect Trump in December 2016,
tweeted
, "#2024," after the meeting, causing fans to speculate whether he's delaying a potential presidential run.
Tim Tebow
, the former University of Florida star quarterback who is a devout Christian,
told "Fox & Friends"
in 2016 that he is intrigued by the idea of running for office if "there's a chance (he) could make a difference someday at something."
Out of the running
Kid Rock, a known conservative, spent more than three months teasing a Senate run, but in October he admitted that it was all a stunt.
I have had a ton of emails and texts asking me if this website is real… kidrockforsenate.com The answer is an absolute YES. Stay tuned, I will have a major announcement in the near future – Kid Rock
"F— no, I'm not running for Senate. Are you f—ing kidding me? Like, who f—ing couldn't figure that out?" he
told
Howard Stern in October.
Speculation started after he posted a photo on Instagram in July, showing a "Kid Rock for US Senate" yard sign. A website also sold Kid Rock for Senate merchandise. Rather than correct the reports, the rock 'n roll star said he decided to "roll with it."
Read more: http://www.cnn.com/2018/01/08/politics/celebrities-running-for-office/index.html