Investigation into Rhode Island boarding school details more than 60 alleged incidents and accuses six faculty and staff by name of crimes including rape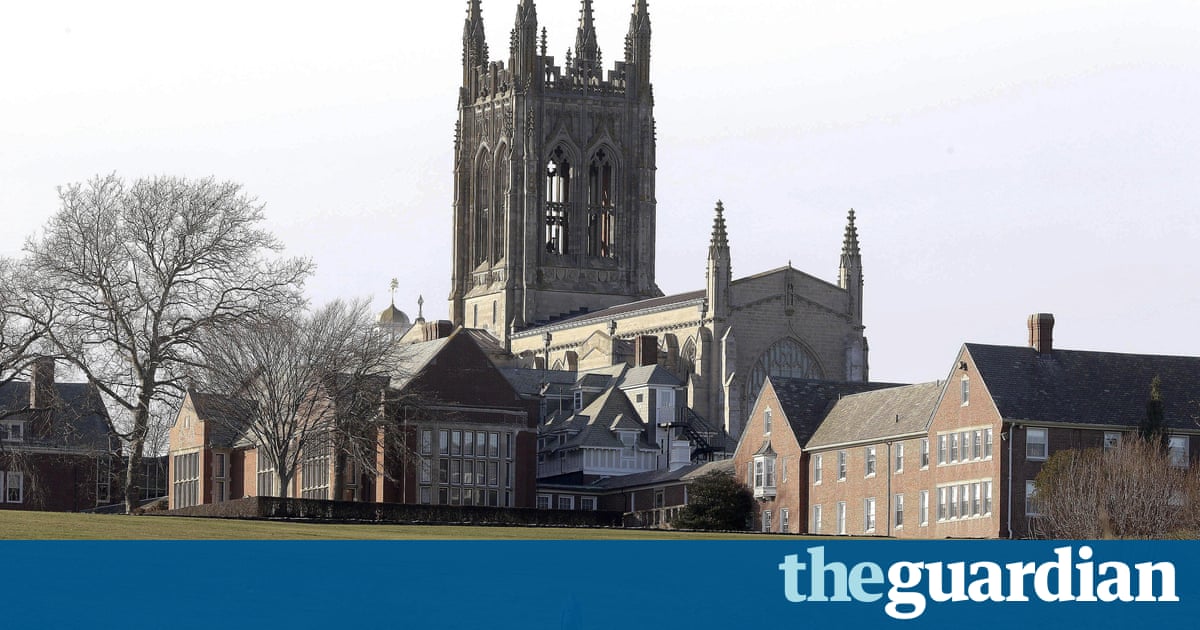 The Boston law firm representing dozens of alleged victims of sex abuse at an elite Rhode Island boarding school released a long awaited investigation on Thursday detailing more than 60 alleged incidents of sexual abuse at St Georges school, and accusing six faculty and staff members by name of crimes ranging from molestation to rape.
The report comes eight months after Anne Scott, an alumnus, told the Boston Globe that a former athletic trainer, Al Gibbs, had raped her when she was 15 years old. The story unleashed a cascade of accusations from former students, many of them decades removed from St Georges, who said they, too, were raped and sexually abused by members of the schools faculty or staff. On St Georges campus, it sent administrators on a scramble to uncover the extent of the abuse and the institutions share of blame.
In early August, nearly 30 St Georges alumni entered a settlement agreement with the school, although the terms and finances involved have not been made public.
Thursdays report details a torrent of new accusations that school officials repeatedly failed to act in the protection of students.
Many of the new revelations pertain to Gibbs, the athletic trainer, whom the school fired in early 1980. One out of every five girls who was a student at St Georges between 1972 and 1979 reported sexual abuse by Gibbs, and the investigation estimated that the number of women who were actually abused by Gibbs substantially exceeds the reported figure.
Alumni had previously alleged that St Georges headmaster in the 1970s and 80s, Anthony Zane, failed to fire Gibbs until multiple people complained. (Katie Wales, an alumnus who reported Gibbs, claims Zane told her the abuse was in her head.) But the report found that Zane and the school board gave Gibbs a letter of recommendation and a financial reward for his service that lasted until Gibbss death in 1996.
The schools treatment of Gibbs in the years after his termination, continuing to his death in 1996, reflected, at best, serious misjudgment, and at worst, callous indifference to the girls and young women the school knew he had abused, the report concluded.
The report is the handiwork of Martin Murphy of the Foley Hoag law firm in Boston, who, along with several colleagues, interviewed more than 150 witnesses and read thousands of internal documents. Murphys investigation, which was commissioned by the school and an alumni survivors group, took on an added prominence after St Georges was seen as sabotaging its own effort to set up an independent inquiry. The school placed a Boston lawyer in charge of that inquiry, without disclosing that she was the law partner and wife of the attorney representing St Georges in the abuse cases.
The schools investigation found about two dozen students who were abused by six school employees. St Georges terminated most of the abusers, but did so without reporting the crimes in a way that would prevent them from continuing to work with children.
Murphys investigation expands the number of known accusers of faculty and staff members to 51, and identifies 10 alleged abusers, six by name. Another 10 students were abused by their peers.
Many of these students remember St Georges as a place where their abusers created a kind of private hell for them a place where they suffered trauma and emotional wounds that, for many, remain unhealed, the report read. The abuse they experienced involved not only physical acts of sexual assault (as horrible as those were), but something that, for many, was even worse: betrayal at the hands of an adult entrusted with their care, at a school where they saw few, if any, places to turn for help.
Three of the accused named in the report Rev Howard White, an associate chaplain; Franklin Coleman, a music teacher and choirmaster; and Timothy Tefft, an English teacher went on to teach at other schools after they were terminated from or left St Georges. Tefft is serving a prison sentence for child pornography. White and Coleman have declined to comment for the duration of the investigation.
Others accused include Susan Goddard, a former school nurse who allegedly had sexual contact with a student in 1979 and 1980, and William Lydgate, a former English student. Neither could be immediately reached for comment.
Most of the accusations date back decades, well beyond the statute of limitations. But several alumni claimed they were abused in the 2000s. And the report raises questions about how the schools current headmaster reacted in 2004 when students accused Charles Thompson, a teacher, of touching their legs. The report asserted that Thompson should have been fired, rather than placed on leave.
The headmaster, Eric F Peterson, announced in June that he would step down, following months of alumni pressure for him to resign.
Regarding another administrator, Robert Weston, who was accused of inappropriate behavior and suspended, Murphy found no evidence to substantiate the allegations against him. The chair of the St Georges board of trustees said Weston was welcome to return to his position.
St Georges joins a number of elite east coast boarding schools reeling from revelations of widespread and pervasive sexual abuse. The scale of this scandal rivals that of Horace Mann school in New York, where almost three dozen cases of abuse took place in the 1970s.
But Scott, the alumnus who was raped by Gibbs, and an attorney for some of the accusers, Eric MacLeish, made clear that they were satisfied with the changes made to St Georges policies toward sexual abuse in recent years.
The St Georges community is full of wonderful and caring people, Scott said, adding that her survivors group is aiding the search for the next head of the school and reviewing the schools abuse, assault, harassment and bullying problems.
St Georges today is a very different school from the one portrayed in this report, said MacLeish, who is also an alumnus of St Georges. No parent should hesitate to send their child to an institution to this school, which has state of the art practices and policies designed to protect children.
Read more: https://www.theguardian.com/us-news/2016/sep/01/st-georges-school-sexual-abuse-investigation