Trump spoke at the Lincoln Memorial, where Martin Luther King Jr declared I have a dream, and told the largely white crowd: Youre not forgotten any more
Donald Trump staked his claim to Washington on Thursday by promising to make America great again while at the feet of the US capitals giant marble statue of Abraham Lincoln in a celebration of patriotic music, military pageantry and fireworks.
The president-elect delivered a brief speech from the Lincoln Memorial, close to the spot where in 1963 Martin Luther King Jr declared, I have a dream. Trump told the largely white crowd: Youre not forgotten any more.
On a cold night of heavy and sometimes heavy handed symbolism ahead of Fridays inauguration, Trump led thousands of supporters in chants of make America great again, saying: And Ill add, greater than ever before. A spectacular array of fireworks shot into the sky and spelled: U-S-A as the Battle Hymn of the Republic rang out.
Accompanied by his wife, Melania, and other family members, he then walked up the steps and spent the better part of a minute silently contemplating the seated Lincoln, the president who won the civil war and helped end slavery. His celebrated Gettysburg address and second inaugural address are inscribed on the chamber walls.
Supporters lined the pool at the National Mall, many wearing Make America great again baseball caps and other regalia, though the area was far from full and some left early as temperatures plummeted after dark. Nearby were the Vietnam war memorial and ghostly figures of soldiers at the Korean war memorial.
But it was the juxtaposition with Trumps fellow Republican Lincoln, the 16th and arguably greatest US president, that was most striking. Hollywood actor Jon Voight, a vocal Trump supporter, told the crowd: President Lincoln who sits here with us Im sure is smiling knowing we will be led by an honest and good man, who will work for all their people no matter their creed or colour. We will see a renewed America.
Some observers, however, found the choice of the Lincoln Memorial jarring. Keith Stiggers, 25, who is African American, said: When I saw that I was like, wow! Probably a lot of his supporters dont like Lincoln and his legacy for the country. Is he going to uphold that legacy or is he going to do what he can to step on it?
Stiggers, a law student, had come with his fiance to support democracy and feels that Fridays inaugural address will be crucial. I think he should definitely build bridges. He got a lot of support from the alt-right and now he should make it clear he is governing for all Americans. His speech is going to be very important; its going to dictate the pace of his presidency.
The free welcome celebration had begun just after 4pm with military marching, music and pageantry, including the national anthem, followed by a change of gear with drummer DJ Ravidrums (Ravi Jakhotia), who has served as a personal DJ for Hugh Hefner. Behind him giant TV screens flashed the names of every US state.
There were performances from soul singer Sam Moore and an improvised country music group, laden with patriotism. Eventually Trump and his wife, Melania, appeared to the soundtrack of The Rolling Stones Heart of Stone. The president-elect turned to give Lincoln a military salute before descending the steps to chants of Trump! Trump! Trump!
They joined other family members behind protective glass to watch artists including the Piano Guys Its time to put all our differences aside rock band 3 Doors Down, Lee Greenwood and country singer Toby Keith, who was introduced as one of the most popular artists in history. Trump is said to have had trouble attracting A-list stars to appear at the event.
Tom Barrack, president of the presidential inauguration committee, then introduced the TV celebrity and businessman turned politician. I would like you to pay tribute to the courage, to the strength, to the loyalty of this man, he said.
Trump, holding a microphone in his left hand, thanked his supporters and said: Im just the messenger … Its a movement like weve never seen anywhere in the world, they say … its something thats very, very special. The phrase, you all know it, half of you are wearing the hat: make America great again.
Trump reflected on the noisy rallies of his election effort, which few observers thought would lead to Fridays ceremonies 18 months ago. There was never an empty seat, like tonight, he said. We all knew that last month of the campaign … we knew that something special was happening.
The polls started going up, up, up, but they didnt want to give us credit. Because they forgot about a lot of us. When the campaign started I called it the forgotten man and forgotten woman. Well, youre not forgotten any more.
The crowd cheered. Trump promised to bring jobs back, and not let other countries take US jobs any longer, while also rebuilding the military.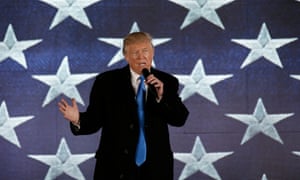 Read more: https://www.theguardian.com/world/2017/jan/19/donald-trump-inauguration-lincoln-memorial-speech