<figure class="media-landscape" no-caption full-width lead">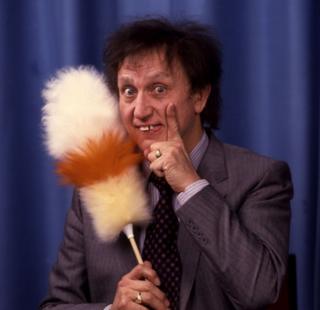 His swept-up hair, protruding teeth and expression of lunatic bewilderment made Sir Ken Dodd one of Britain's most recognisable entertainers.
He was one of the most popular artists of his time, topping the record charts, filling theatres and starring on TV.
An old-fashioned variety performer with his roots in music hall, he added a unique dash of surrealism to his act,
Even allegations of tax fraud failed to diminish his standing with his adoring public.
Kenneth Arthur Dodd was born on 8 November 1927 in the Liverpool suburb of Knotty Ash, the son of a coal merchant.
His birthplace would play a central part in his later stage show as he wove surreal tales around Knotty Ash and its inhabitants the Diddy people, with their jam butty mines and black pudding plantation.
As a child he showed an early talent for clowning but without any thought of making it a career. However one prank went wrong when he tried riding his bike with his eyes closed and sustained injuries to his mouth that resulted in his distinctive toothy appearance.
<figure class="media-landscape" has-caption full-width">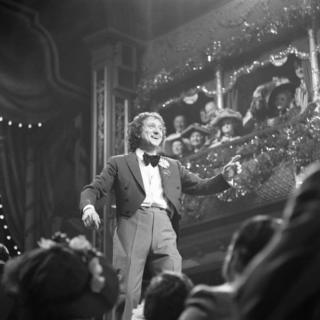 Image caption His appearances on The Good Old Days reflected his music hall roots
Despite getting a scholarship to grammar school, he left at 14 and got himself a little cart with which he went round the outskirts of Liverpool, selling pots and pans.
As he used to say in later years: "If you can sell pots and pans to housewives on their washing day, you can sell anything, even jokes."
But the stage beckoned and, after sending off for a book on how to be a ventriloquist, he set out to entertain the public in local clubs and halls with a dummy given to him by his father.
He served a long apprenticeship as an amateur performer before making his first professional appearance as Professor Yaffle Chucklebutty, Operatic Tenor and Sausage Knotter, in Nottingham in 1954. "At least they didn't boo me off," he later recalled.
Little black notebooks
A year later he appeared in Blackpool, and by 1958 had gained top billing in the seaside resort which has been the making – and sometimes breaking – of a host of variety acts.
During the next decade he gained a steadily-increasing reputation in the northern music halls, and became well known to a wider public for his broadcasts and his recordings of popular songs, like 'Happiness'.
But his debut in the West End of London was deferred until 1965, when he topped the bill at the Palladium in an extraordinarily successful 42-week run. In the same year, he topped the charts with 'Tears'.
<figure class="media-landscape" has-caption full-width">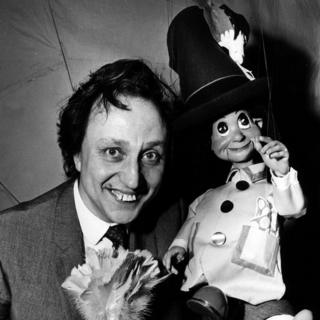 Image caption The Diddymen were a central part of his act
Ken Dodd was devoted to his work, and seldom, if ever, took a holiday.
He recorded all his jokes – and the public reaction to them – in a series of little black notebooks, and rehearsed and re-rehearsed his every word and gesture.
Set down in print, much of his material may seem commonplace. It was the way he put it across that counted.
Possibility of disgrace
Uttered by him, a phrase such as "Good Morning" became charged with outrageous innuendo, and – backed by appropriate pantomime – would throw an audience into paroxysms of laughter.
Dodd's catchphrases, most famously "How tickled I am!", were quoted everywhere.
At a Liverpool theatre in 1974 he told jokes at a rate of 10 a minute for more than three hours – a feat that gained him a place in the Guinness Book of Records.
<figure class="media-landscape" has-caption full-width">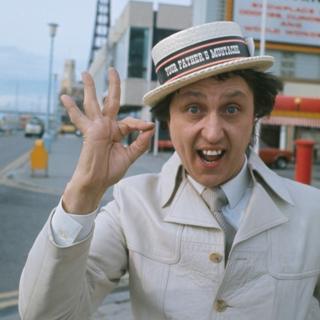 Image caption The last of the old time music hall entertainers
Throughout the 1970s and 80s he was a firm favourite on television and radio, and kept up a punishing schedule of stage appearances.
But in 1989, Ken Dodd faced the possibility of disgrace, when he stood trial at Liverpool Crown Court on eight charges of tax fraud spanning a period of 15 years and involving £825,000.
The trial abounded with stories of his eccentricity. He had claimed to live on £3,500 a year, while his personal wealth ran into millions, and he did not take a holiday until he was 51.
It also emerged that he had 20 bank accounts in Jersey and the Isle of Man, and made regular 'cash and carry' flights to deposit money in them which was not declared to the Inland Revenue.
Private man
He also had £336,000 hidden in wardrobes, cupboards and under stairs.
The jury was swayed by Dodd's defence counsel George Carman QC, who remarked: "Some accountants are comedians but comedians are never accountants". Dodd was acquitted, although he faced a reported £2m bill for legal fees and tax he had previously promised to pay.
He took up his career again and later made light of his court ordeal, quipping "I told the Inland Revenue I didn't owe them a penny because I lived near the seaside."
He had another season at the London Palladium in 1990, and was given a British Comedy Lifetime Achievement Award and voted Top Variety Performer in 1993.
<figure class="media-landscape" has-caption full-width">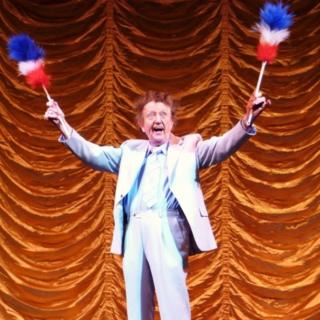 Image caption He was still performing four-hour shows in his 80s
And the TV special, An Audience With Ken Dodd, proved a huge hit, showcasing Dodd's comic brilliance for a younger audience.
He was still touring in his ninth decade with his shows sometimes lasting into the early hours of the morning. "Some of you are optimists," he'd tell his audience at the start of a show, "you've booked your taxis for half-past 12 But they say the breakfast here is good."
Behind the banter Ken Dodd was a private man, and a serious student of comic theory.
As he once put it: "Freud said that laughter is the outward expression of the psyche. But Freud never had to play the Glasgow Empire."
He rejected suggestions that many of his gags, particularly those revolving around blondes, were sexist. "I think in every comedian there is a streak of anarchy. We don't take kindly to people telling us what we should say. But I don't like vulgarity and obscenity – the great comedians never did anything like that, they didn't need to."
Dodd married his partner of 40 years, Anne Jones, two days before he died. Although the pair had a lengthy engagement, Jones – a singer, pianist and flautist – was the support act on his tour.
In December 2016, to the delight of his legions of fans, it was announced that Doddy was to be awarded a knighthood in the New Year Honours.
Ken Dodd was the UK's last great music hall entertainer, from an age when comedians trudged from venue to venue plying their trade of laughter.
"My job," he once told the Daily Telegraph, " isn't to educate people or even do politics, I've got to make people feel good, I want to make them happy."
Read more: http://www.bbc.co.uk/news/entertainment-arts-13360811