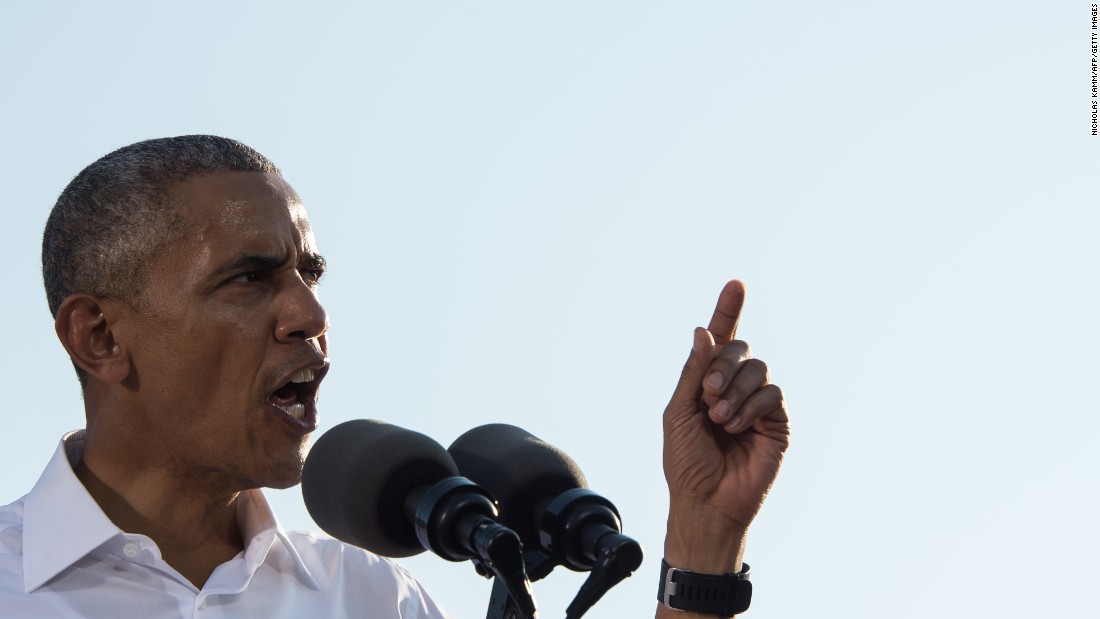 Fayetteville, North Carolina (CNN)President Barack Obama rebuked a crowd of Hillary Clinton supporters Friday after they shouted down a man holding a Donald Trump sign.
Obama was addressing a get-out-the-vote rally for Clinton here when the man, wearing a military uniform and hat, stood up in the bleachers and prompted the response from supporters of the Democratic nominee.
<
ul class="cn" cn-list-hierarchical-xs cn–idx-4 cn-zoneadcontainer">
"Hold up! Hold up! Hold up! Hold up!" Obama shouted over and over as the supporters drowned out his calls for order.
"Everybody! Hey!" Obama yelled. "I told you to be focused and you're not focused right now."
The President then reminded the crowd "we live in a country that respects free speech," adding the man looked like he possibly served in military, saying, "we ought to respect that."
The episode lasted for more than a minute before the Trump supporter was escorted from the venue.
It was Obama's second time in North Carolina in 24 hours. He is scheduled to continue campaigning in the swing state when he visits Charlotte.
Obama spent much of his remarks highlighting the importance of voting, telling the audience, "You got four days to decide the future of this country."
Obama also hit Trump, saying, "We can't have a president who every day seems to violate those basic values."
"It's like suddenly reality TV has entered into the race for the presidency. It's not even 'Survivor' or the 'Bachelorette.' I mean, it's like some 'Love and Hip Hop' stuff," Obama said, raising his eyebrows as the audience laughed.
Read more: http://www.cnn.com/2016/11/04/politics/obama-north-carolina-donald-trump-protester/index.html