President says Pat Toomey, a Republican facing a tough re-election bid, is trying to have it both ways on Trump by refusing to tell voters where he stands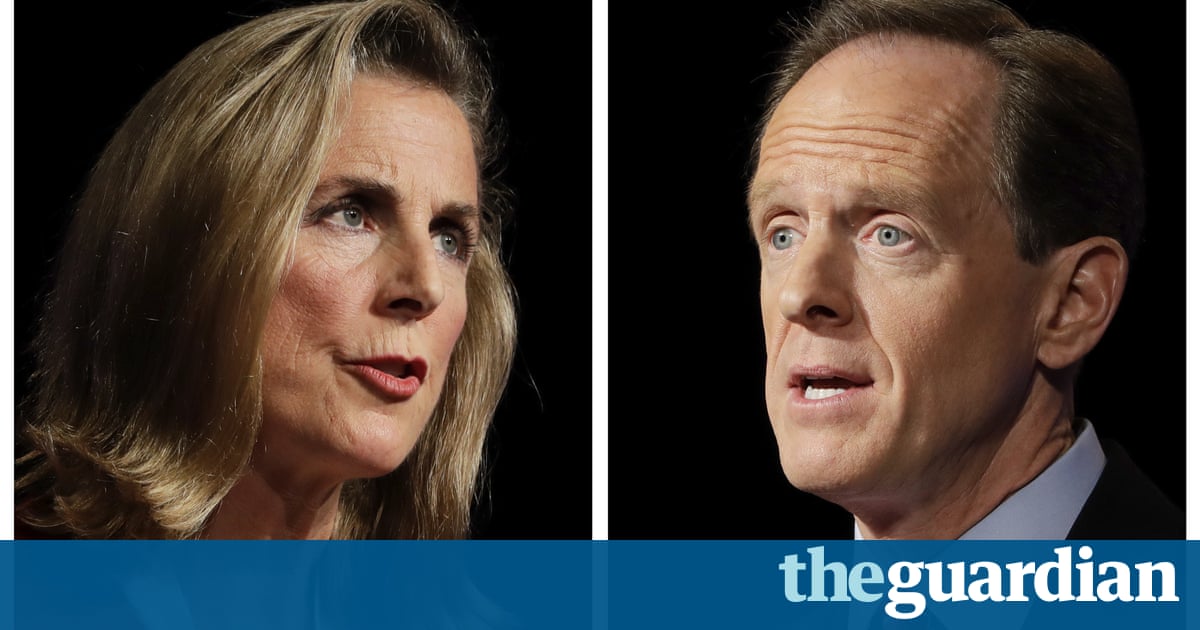 Barack Obama rebuked Senator Pat Toomey of Pennsylvania on Saturday, criticising the Republican for using his words in a campaign ad and for lacking the political courage to stand up to Donald Trump.
Obama issued a statement in response to a Toomey television ad that showed the president outside the White House, thanking the senator for his courage in backing a gun control reform bill, which ultimately failed, in 2013.
Real courage, Obama said, lay in telling voters where you stand on the tough issues, and that Toomey had failed to show it by refusing to say whether he would vote for Trump, the Republican presidential nominee.
Courage is telling Pennsylvania voters where you stand on the tough issues, not just the easy ones like background checks, Obama said. Pat Toomey wont tell Pennsylvania voters where he stands on Donald Trump, trying instead to have it both ways by telling different people what he thinks they want to hear. Thats not courage.
In May, Toomey said he was absolutely in the never Hillary Clinton camp, and has been a consistent and energetic opponent of Obamas legislative agenda, from healthcare to immigration reform.
He faces a difficult re-election, needing to win to moderate voters of suburban Philadelphia, where people have largely rejected Trump. On Saturday, a Morning Call poll put Toomey up just 43% to 42% against the Democrat, Katie McGinty, in a race that could be key to deciding control of the Senate.
Obama also admonished Toomey for his role in the current impasse over his supreme court nominee, Merrick Garland, saying: Voting to shut down the government and against bills to close the terrorist gun loophole isnt courage. And playing politics with the supreme court isnt courage.
The same Morning Call poll put Trump six points behind Hillary Clinton in Pennsylvania, one of the states he would probably need to win the White House on Tuesday. Both candidates are due back in the state for rallies before the vote.
Trump is primed to have a very good night in many parts of the state, Chris Borick, director of the Muhlenberg College Institute of Public Opinion, wrote in an analysis of the Morning Call poll. But one area where he needs a very good night is the one that remains the most troubling, and thats the Philadelphia suburbs.
Borick said Toomeys ad was well-targeted at such moderate suburban voters. Both Toomey and McGinty courted those voters in campaign events on Saturday.
Lauren Passalacqua, a spokeswoman for the Democratic senatorial campaign committee, told the Associated Press on Friday that if Toomey respected Pennsylvanians or the truth at all, hed take the ad down.
At a campaign event in Philadelphia last month, McGinty, who worked for Vice-President Al Gore during Bill Clintons administration, similarly derided her opponent.
It is long past due for any profile in courage from Pat Toomey, she said, noting that he had wavered on Trump even while the nominee had insulted prisoners of war, a Gold Star family and women. Its nothing short of despicable for Pat Toomey not to stand up right now, today, to Donald Trump and make clear that he is not fit to be president of the United States, she said.
Democrats attempts to tie Republican candidates to Trump have not met with universal success. In Florida, the former presidential candidate Marco Rubio maintains a healthy polling lead over Patrick Murphy, who made close to 20 mentions of Trump during the last senatorial debate.
Republicans control the Senate by 54 seats to 46, and should Clinton win the presidency, Democrats will need only to pick up four seats to take the chamber back, through the casting vote of the vice-president.
This scenario would give the Democratic party technical control of supreme court appointments, a possibility which has driven many Republican moderates to support Trump. Democrats would need 60 votes, however, to overcome a filibuster and hold a confirmation vote.
At an event with Trumps running mate, Mike Pence, in Wisconsin on Saturday, the House speaker, Paul Ryan, said he had voted early for Trump, because it is time to come home and go out and vote.
Ryan struggled over whether to endorse Trump and last month <a href="https://www.theguardian.com/us-news/2016/oct/10/paul-ryan-ends-support-trump-campaign-endorsement-republicans" data-link-name="in" body link" class="u-underline">told congressional Republicans he would no longer campaign for or with the candidate. On Saturday, he said concerns over free speech, gun rights and healthcare had informed his decision.
When Donald Trump says that he wants a special session to repeal and replace Obamacare, let me tell you as speaker of the House we are ready, we are willing and we have a plan to do that, he said. But that only happens if we win this election.
Read more: https://www.theguardian.com/us-news/2016/nov/05/barack-obama-senator-pat-toomey-trump-pennsylvania