The manager of the Oakland, California, warehouse known as Ghost Ship grew visibly upset on live TV on Tuesday morning, as he repeatedly refused to answer questions about the fire that destroyed the building and killed at least 36 people this past weekend.
"I'm not going to answer these questions on this level," Derick Ion Almena told "Today" show hosts Matt Lauer and Tamron Hall when asked whom the families of the victims should hold responsible. "I would rather get on the floor and be trampled by the parents. I'd rather let them tear at my flesh than answer these ridiculous questions."
Almena rented living space to artists in Ghost Ship, although the warehouse was not coded for residential use. Several tenants told The Associated Press that they had complained about hazardous living conditions but that Almena did nothing to address them.
When pressed by Lauer about those prior complaints, Almena dodged the question, instead rambling on about his dream of an artistic community.
"I laid my body down there every night. We laid our bodies down there. We put our children to bed there every night," he said. "We made music. We created art."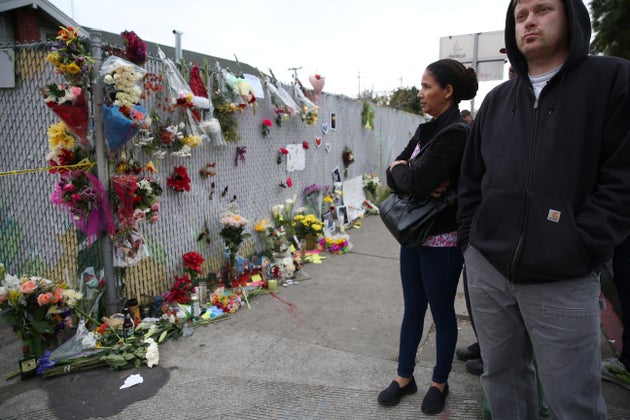 <
div class="content-list-component" text">
Hall attempted to ask about former tenant Shelley Mack, who has accused Almena of profiting off living spaces he knew were unsafe. But Almena interrupted.
"I don't want to talk about it. I don't want to talk about me. I don't want to talk about profiting," he said loudly. "This is not profit. This is loss. This is a mass grave."
Lauer ended the five-minute interview as Almena refused again to discuss his own possible accountability for what happened.
"I am so sorry. I'm incredibly sorry," he said. "What do you want me to say? I'm not going to answer these questions."
It's not just tenants who have complained about Almena. In 2015, event organizer Philippe Lewis filed for a restraining order against him after a verbal dispute allegedly descended into physical violence. According to NBC Bay Area, Lewis had rented the warehouse for a New Year's Eve concert. Following the event, he said that he and another organizer were assaulted by Almena over cleanup costs.
Rescue workers continued to search for bodies and remove debris from the ruins of the warehouse on Tuesday. At least 35 of 36 victims have been identified or "tentatively identified" by officials.