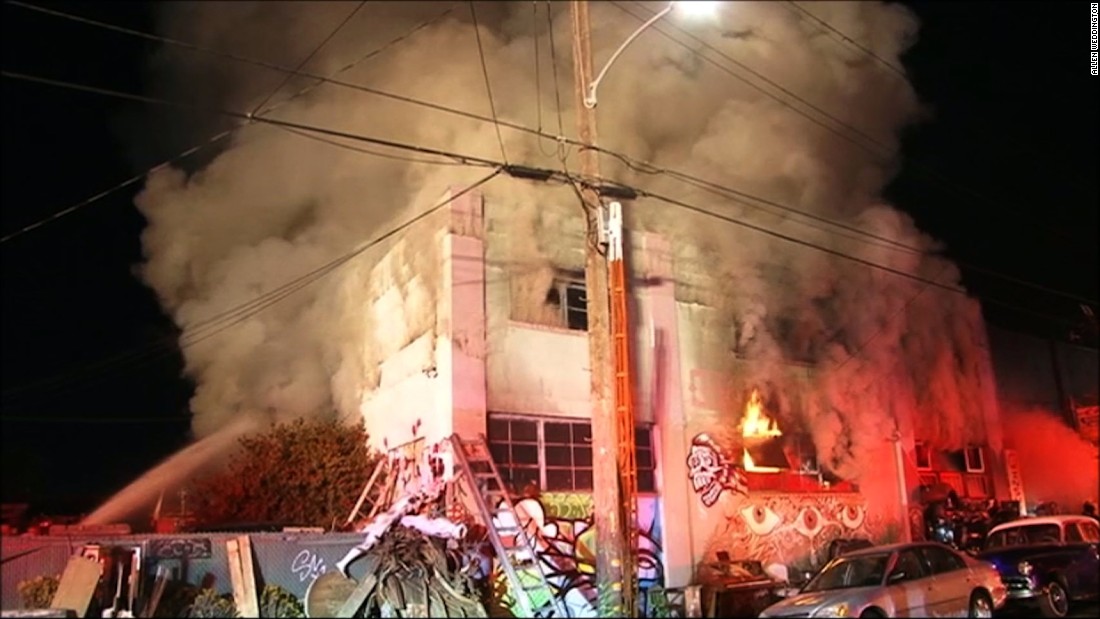 Oakland, California (CNN)There were only two ways out when a fast-spreading furious fire broke out during a festive gathering of artists on the second floor of a warehouse in Oakland.
There was a makeshift, rickety stairway made from pallets and other materials — and windows, with a leap to the ground.
<
ul class="cn" cn-list-hierarchical-xs cn–idx-4 cn-zoneadcontainer">
At least nine people died in the fire as scores of others escaped. But the fates of more than two dozen people were still unknown Saturday afternoon, hours after the blaze that gutted the two-story warehouse.
Friends and family used every available tool — phones and social media among them — in the frantic effort to find out whether their loved ones were alive.
The Oakland Fire Department said it fears the news is very grim: that as many as 40 people were burned in the two-story structure that housed artists' studios and stored so many things that the housing department had notified property owners of violations for trash and debris.
Some people were just arriving for the electronic music event, which
a Facebook event page
called the "Golden Donna 100% Silk 2016 West Coast Tour." It featured a DJ who goes by the name Golden Donna along with other music artists.
John Evanofski was just getting to the building at 1305 31st Avenue on Friday night when he saw the fire.
"The place was already ablaze. There were huge flames coming out of the roof. And tons of billowing black smoke," he told CNN. "On the sidewalk, where many of my friends who attended were huddled, you could feel the heat of the flames.
"Most of us were crying or unable to react. It was so hot and so terrible knowing that so many of us were still inside."
Alameda County Sheriff's Sgt. Paul Graves said the death toll could reach 40, though he cautioned that some people may be at hospitals or made it out and are with friends. Later officials said the death toll might be in the dozens.
Most of the dead were on the second floor, Oakland Fire Chief Teresa Deloach Reed said, adding that people would have had difficulty leaving when the fire started because the pallet stairway was the only way to descend from the second floor. Officials estimated at least 100 people were at the event.
Evanofski said one of his friends is among the missing. She was doing nails.
"She is one of the most magical people I've ever met," he said, describing the people who were there are artists and creatives.
Freelance journalist Sam Lefebvre said he thinks about six performers were playing electronic music at a dance party and the event was supposed to go very late, so many people were just arriving when the fire started.
Lefebrve, who had just arrived as the first fire truck rolled up, said he thinks the residents built the stairway that was made mostly from pallets.
'Immense tragedy'
Oakland Mayor Libby Schaaf said city officials are committed to sharing information quickly.
#fatal #cbs #nbc #fox #ktvu #oakland #dead #9doa #9confirmed #wtf #party #rave #warehouse #notmyhouse #e12th #e14 #bywendys #fire #oaklandfd #ofd #opd #accident? #arson? #stillsmoking #copyright2016evoinc #bayarea # #fridaynight #death #morebodies? #firstfriday
"Last night's fire was an immense tragedy," she said. "Our focus right now is on the victims and their families and ensuring that we have a full accounting for everyone who was impacted by this tragedy."
The city's interim director of planning and building, Darin Ranelletti, told reporters at a second news conference that the building was permitted only as a warehouse and not for residences.
"Permits would need to be issued for people to live in the building and those permits had not been issued," he said. Ranelletti also said a special permit is required for events like the one Friday night, and no such permit was issued.
According to online property records, the warehouse property owners were notified last month of violations for hazardous trash and debris. A November complaint for illegal interior building structure was under investigation.
Ranelletti told reporters that a city inspector tried to enter the warehouse November 17 but was unable to make a visual inspection inside.
Photos posted on a blog showed elaborate wooden structures inside the building before the fire. Some of them include beds and living room furniture.
CNN is reaching out to the property owners.
Deputy Fire Chief Mark Hoffman said he saw no evidence of sprinklers in the warehouse.
Oakland police spokeswoman Johnna Watson said the building is not deemed a crime scene but it is still early in the investigation.
'It's too unsafe' for emergency responders
People were using the event's Facebook page Saturday to post names of those who are believed to have attended and try desperately to find out whether they are OK. Others who made it out were letting people know they were safe.
Twenty-five people are unaccounted for, as reported by people who either escaped the fire or believe they knew someone who was there, Reed said.
Terry Lightfoot, a representative of Oakland's Highland Hospital, told CNN the hospital received two patients and one of them has been discharged. Lightfoot said he did not know the condition of the patient who remained hospitalized.
Firefighters have not been able to search the entire building, where the roof collapsed onto the second floor and parts continued down onto the ground level.
Crews, possibly with heavy equipment, first have to shore up walls and make sure the building is safe.
"Right now, there's limited access to the structure," Reed told
CNN affiliate KRON-TV
in San Francisco. "It's too unsafe. And not only that, there's a lot of heavy wood from when the roof caved in that's going to have to be removed.
It was a very difficult firefight," Reed told
CNN affiliate KGO-TV
in San Francisco. "They arrived on scene, smoke showing, heavy smoke. Once making entry into the structure, there was heavy flames and heat where they had to back out and take a defensive attack."
An artists' studio
The building is "sort of live/work art space with a lot of old decorations and furniture," Lefebvre, the freelance journalist, told CNN.
Reed said there were partitions that divided space among several artists.
"Inside is just a wide assortment of just … everything. Furniture, mannequins, statues. Just a lot of stuff inside," she told CNN.
She said she has heard reports that some people may have been living there, but that there were no bedrooms as such, and it wasn't clear how many people lived there, if anyone.
Bob Mul said he was a resident. Standing outside the burning warehouse, he described it as "a 24-hour artists' collective" with about 18 resident artists who used the space.
<
div class="el__embedded" el__embedded–fullwidth">