<figure class="media-landscape" has-caption full-width lead">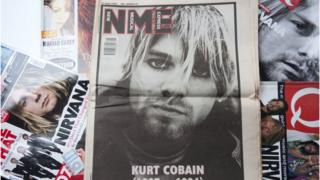 Image copyright Phil Rees/REX/Shutterstock

Image caption NME with Kurt Cobain on the cover after his death in 1994
Imagine, if you can, a time before music stars either transmitted their every inane thought via social media or, depending on their PR strategy, transmitted very few thoughts at all.
Imagine a time when we got some insight into their lives from writers who were blisteringly entertaining and often as opinionated as the stars they were interviewing. When what we did know about our idols wasn't old news within half an hour. When people bought magazines.
OK, there's not much point harking back to the good old days – but the demise of the NME (yes, it's continuing digitally, but it's not the same) is the end of an era.
The New Musical Express is one of those magazines that its readers (anybody over the age of 30 and with decent taste in music) has a deep emotional attachment to.
Why? It bottled the exhilarating, kaleidoscopic, rampant music scene and brought it into our bedrooms.
<div id="bbccom_mpu_1_2_3″ class="bbccom_slot" mpu-ad" aria-hidden="true">