Ukips temporary leader tells Jeremy Paxman he disagrees with Republican nominee on lots of things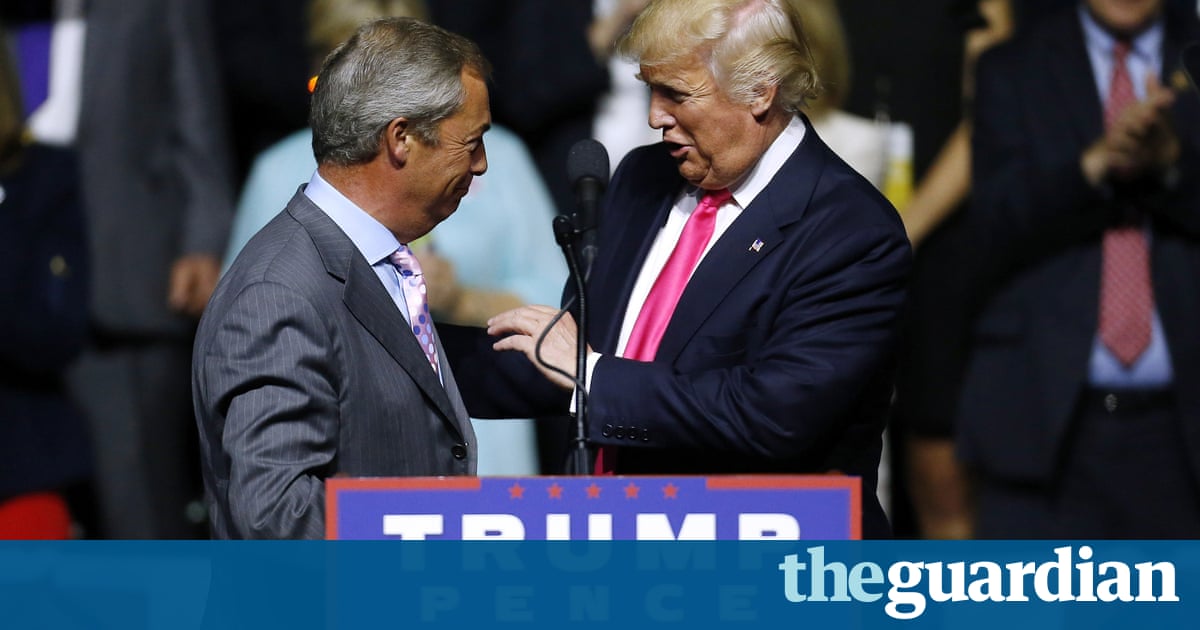 Nigel Farage has qualified his admiration of Donald Trump, saying he could not support his comments about groping women, banning Muslims from the US or derogatory remarks about Mexicans.
The Ukip leader was pressed about his links to Trump in a new documentary presented by Jeremy Paxman on the US presidential race to be shown on the BBC on Monday.
Farage, who has appeared at a rally with Trump and praised him in the spin room after one of the presidential debates, came under fire from some of his Ukip MEPs this week for defending the controversial Republican nominee.
Asked about the recent controversy over the Trump tapes about groping women, Farage told the programme that it had badly hurt the politicians chance of becoming US president.
I just saw this whole thing as sort of, an extreme form of alpha-male boasting as the kind of boasting that some men do it doesnt mean that they actually do it, said Farage.
While Farage has not explicitly endorsed Trump, he has appeared alongside him during the campaign and said he could never vote for the Democratic candidate, Hillary Clinton.
Pressed again about his alliance with Trump, Farage told Paxman: Well, look, its not just that is it? I mean, there were the comments about Mexicans, equally there was the idea that you could have a total ban on anybody coming into America from one particular religion.
You know, there are lots of things in this campaign that I couldnt support in any way at all and nor do I But I spoke to people who were, Trump voters [they were] going to vote Trump in this election, and do you know what? they couldnt care less. They couldnt give a damn what Trump says, who he offends because they see him as their weapon against the establishment and they see Hillary as being the epitome of that establishment.
Farage, who has returned temporarily as Ukip leader after the shortlived tenure of Diane James, said people were voting for Trump because of the little people saying: We have had enough … and we want a change and we dont care if that change causes a rupture.
His remarks do not represent a complete disavowal of Trump, but acknowledge he is not entirely easy with some of the Republican candidates positions. His cooling toward the former Apprentice host came amid a flurry of new accusations from women who claim Trump sexually assaulted them.
A former contestant on the reality business show, Summer Zervos, on Friday accused Trump of groping or aggressively kissing her on two separate occasions in 2007, when she met him privately for what she thought were going to be discussions about job opportunities.
Read more: https://www.theguardian.com/politics/2016/oct/15/nigel-farage-backtracks-on-donald-trump-support-amid-groping-claims