A frustrated Lewis Hamilton lost further ground to Nico Rosberg in the championship race after he finished only fifth on Formula Ones inaugural visit to Azerbaijan for Sundays European Grand Prix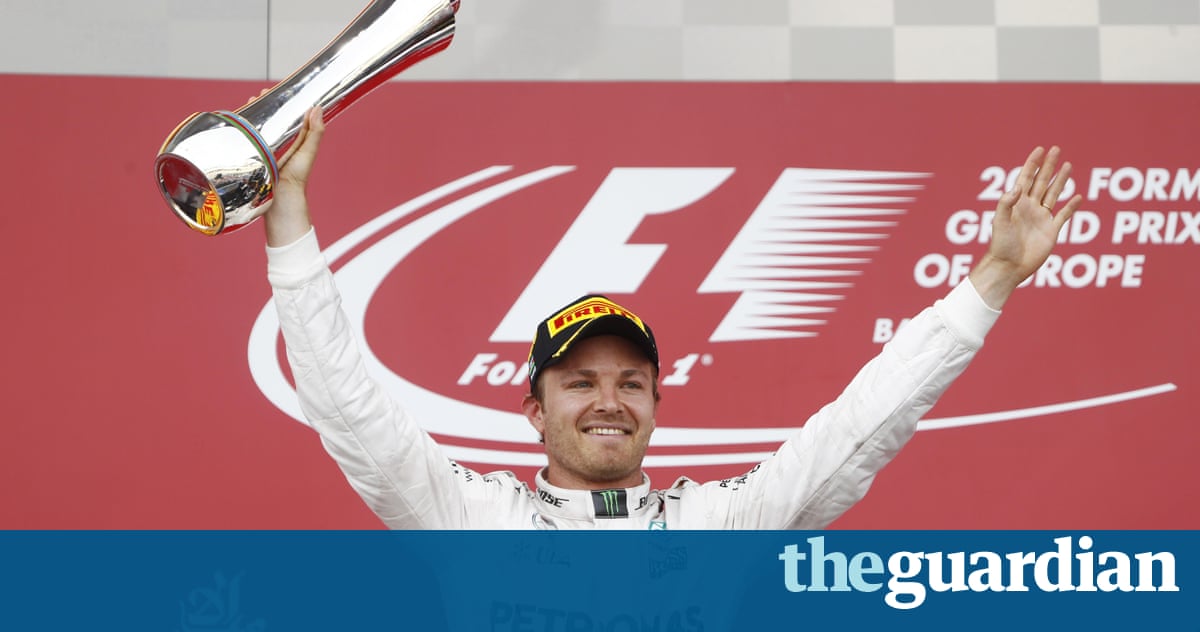 The European Grand Prix in Baku was going to be a prang-fest, it was said, with wrecked cars, bruised bodies, multiple safety cars and damaged medieval walls on this tightly cornered street circuit.
However, the only talking point after Nico Rosberg had won on Sunday for the fifth time this season, to extend his lead over his Mercedes team-mate Lewis Hamilton to 24 points, concerned radio messages between teams and drivers.
Hamilton looked like a helpless, Mayday, mayday, mayday screaming radio ham as he struggled to get any information from his pitwall. He was seen fumbling with a steering wheel that has 45 individual controls, and thousands of possible options overall. Hamilton started back in 10th place on the grid but still had realistic hopes of coming second after making quick gains in the opening laps; he finished fifth, taking only 10 points to Rosbergs 25. Hamilton lost power in the second half of the race and, when he asked his engineer Pete Bonnington for information, he was told it could not be given because of a clampdown on radio messaging at the start of the season. Hamilton sounded frustrated when he came back: This is ridiculous, guys, I dont know. Im looking at my fricking dash every five seconds trying to find a switch in the wrong position. Ive not changed anything or done anything wrong that Im aware of.
Bonnington, sounding like a frosty spouse, replied: There is nothing you are doing wrong, just a setting that is incorrect. After that, the amusing conversation continued. Hamilton In HTB?
Bonnington: Im afraid I cant say.
Hamilton: I might not finish this race as Im going to try and change everything.
Bonnington: We do not advise that, Lewis.
Hamilton: Can I make suggestions and you say if its OK or not?
Bonnington: No, thats not allowed. Lets just get our heads down and focus on the job.
When Hamiltons car suddenly rediscovered its old power he did not take any credit for it. I didnt do anything, it just fixed itself, he said.
I had no idea. There were like, 16 different engine positions, and in those engine positions, like 20 positions, so I had no idea what problem I had, just low power.
By the time the problem had been solved only 12 laps remained and Hamiltons hopes of a podium finish were long gone. It ruined a run of form in which he had won the previous two races, in Monaco and Montreal to cut Rosbergs lead from 43 to nine points. But now the pressure is on the world champion to come back once more, in the next race in Austria in a fortnight.
After the Baku race, however, it emerged that both Mercedes cars had suffered energy recovery issues and that Rosberg had been more adept, or perhaps a little luckier, in fixing his.
Toto Wolff, the Mercedes head of motorsport, said: We had a problem on both cars. It was the configuration of some switches. Lewiss problem came a bit earlier, Nicos a couple of laps later. There was a way of changing the switches on the dashboard, but by regulations we are not allowed to communicate with the drivers. And this caused a bit of confusion and it took a while on Lewiss car to reset.
So was Rosberg, who is known to be the superior engineer among the Mercedes drivers, merely a bit cleverer? Niki Lauda, Mercedes nonexecutive chairman, suggested so when he said that both drivers had the same problem but the German was quicker dealing with it.
Wolff, though, said: Nico was in a bit more of a fortunate situation as he had done a switch change before and he just changed it back basically a couple of laps later. Lewis was trying to figure out what it was and it took 12 laps. The power came back but it was too late.
A Mercedes spokesman said later: It was a configuration not working properly, not the drivers fault. But the radio rules complicated things drastically: without this, it would have been solved immediately.
The radio clampdown had good motives behind it. It was meant to make racing less predictable and give the driver more to think about. But radio messages between driver and team also provided spectators with a great deal of entertainment as we saw in Baku.
Perhaps the rule-makers have tweaked things a little too far. The double world champion Fernando Alonso appeared to think so when he said: They give us a spaceship to drive, with the technology we have, and now we have no information available. Sometimes its difficult to know whats happening with the car and what solution to do.
Ultimately Hamilton, who had been the dominant driver in all three practice sessions, paid for a poor performance on Saturday. It was one of his worst in qualifying, for his crash in Q3 was merely the culmination of a series of errors. Rosberg did nothing wrong on Sunday. But the driver of the day was surely Sergio Prez.
On Saturday he had been the second quickest but was hit with a five-place grid penalty for crashing in Friday Practice 3. He deserved his third place in his Force India behind Sebastian Vettel. He passed Kimi Raikkonen in the closing stages, though he had no need to as the Finn had a penalty hanging over him. Raikkonen also had radio problems. But maybe that was because he never says anything.
Read more: https://www.theguardian.com/sport/2016/jun/19/nico-rosberg-wins-european-grand-prix-in-baku-to-extend-championship-lead