The Australian made the Wimbledon third round 6-7 (3-7), 6-1, 2-6, 6-4, 6-4 in a match where he was joined by his opponent in berating umpire Jake Garner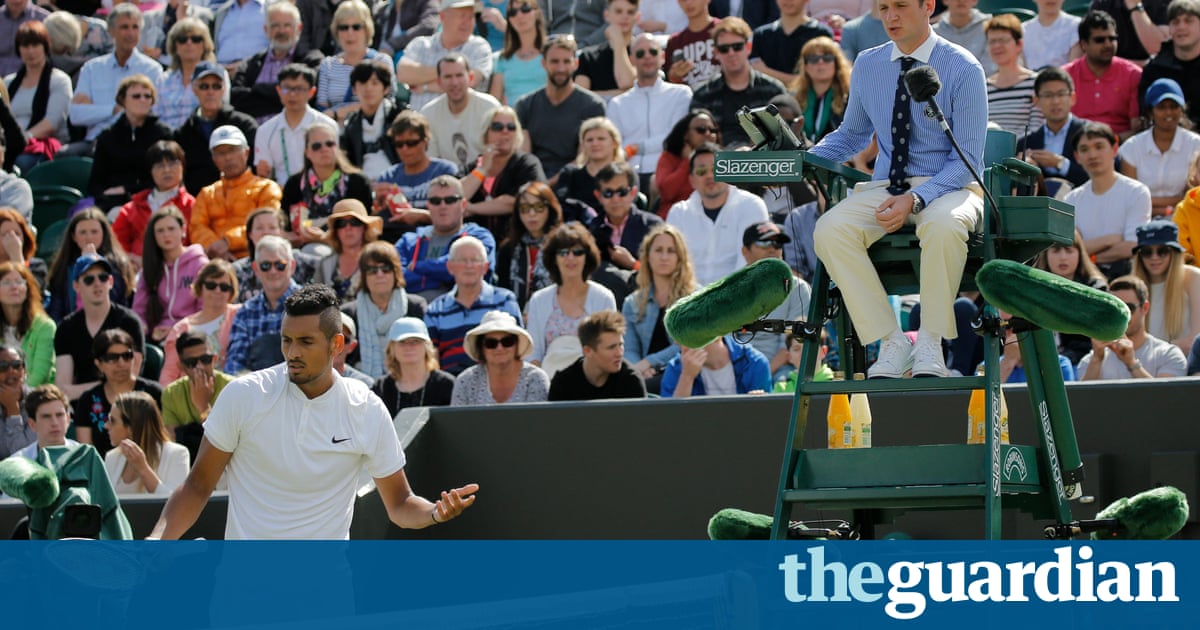 Nick Kyrgioss five-set victory over Dustin Brown lasted only two hours and five minutes but it took a little longer for the bad smell to leave Court No2.
It was another boorish performance from Kyrgios, who at 21 is a little long in the tooth for an enfant terrible. He was fined for swearing in his first-round match against Radek Stepanek, when he had the unusual distinction of being warned about his behaviour before the match had even started, and he received another code violation notice from umpire Jake Garner on Friday afternoon.
But when his bad language was raised after the match he sounded a little less than repentant. I thought my behaviour was really good throughout the match obviously it went a little off track toward the third, he said.
At the same time I thought it was OK, to be honest. The crowd was loving it. Im sure a lot of people around the world were watching that match. Thats what sport is. Its entertainment, isnt it?
He then lost his temper with two reporters for pressing him further on this. So youve never sworn in your life? he asked.
Did you see Dustin arguing with the umpire as well? Did you see Dustin arguing with him too, or just me? It was another charmless display of spoiled bratishness from someone who might be sufficiently deluded to consider himself a character.
Kyrgios promised that his match with Dreddy Brown would be a circus but they were laughing at only one of the clowns.
While Brown entertained spectators with his amazing drop-shots, leaping, Boris Becker-style volleys and wide smiles, the crowd were laughing at Kyrgios for all the wrong reasons.
The flashpoint came at the start of the third set, when he played a shot after the ball had bounced twice, and the umpire informed him that it was not up. Kyrgios screamed: Im so pissed off. Then he told Garner: Thats just unbelievable, dude. Not that it mattered, because he would have had an easy ball. Thats just horrendous by you guys, once again. The code violation warning came shortly after that, when he said something after dropping his serve in the second game of the set, and it means that he will receive a second hefty fine in these championships.
He was supported by his friend Brown, who told the umpire to concentrate a little bit. He added: You think this is normal that both players are complaining? he said. That we are doing it for the fun of it?
The point is that Browns language did not offend the umpire.
Brown has an ATP ranking of 85 against his opponents 19 but he is a dangerous player, and especially on grass. He came here as a wild card, based on his popularity and his performance here last year. Then, he arrived as a qualifier and promptly reached the third round, knocking out the No10 seed, Rafael Nadal, on the way.
And in 2013, when again he was a qualifier, he defeated the Wimbledon champion of 2002, the Australian Lleyton Hewitt.
He is one of the most engaging characters on the tour. His father is Jamaican and his mother German. He also has British grandparents if you want to stake a claim to this highly entertaining 6ft 5in maverick who is a blur of tangled legs, arms and dreadlocks.
For many years, when money was tight, he toured in a camper van and strung the rackets of fellow players to make ends meet. He has talked about spending hours sitting in a launderette because he has not been able to afford hotels cleaning bills.
If his lifestyle has been unorthodox for a modern professional tennis player, his game is equally eccentric. He plays a high percentage of drop-shots, but just when you think he is over-doing this, and becoming predictable, he pulls off another one. It hardly helped Kyrgioss petulant mood here.
He also hits the ball hard and flat. This results in a high number of spectacular winners but it is also a gameplan which reduces his margin of error; he concedes too many cheap points.
This match was scheduled to start at 11am and ended just before 7pm. Yet the playing time was remarkably short as both players seemed determined to edit out any notion of a rally. Points, games and sets came in a rapid, exchanged gunfire of sometimes breathtaking strokeplay.
Brown won the first set on a tie-break but his performance levels dropped in the second set, when he made a number of unforced errors which allowed Kyrgios to break his serve in the fourth and sixth games. Finally, Brown put a tame forehand over the baseline and lost the set 6-1.
Kyrgios appeared consumed by countless imagined injustices in the third set, which he lost 6-2. In the fourth set, though, he rediscovered his composure and his tennis to win 6-4.
The deciding set was poised at 3-3 when the rain returned. Brown was immediately broken and Kyrgios served out for the match.
The No15 seed, who reached the quarter-finals on his Wimbledon debut as a wild card in 2014, is a rare talent; thankfully the oafishness he has displayed on these lawns is even scarcer.
Read more: https://www.theguardian.com/sport/2016/jul/01/nick-kyrgios-beats-dustin-brown-wimbledon-second-round