<figure class="media-landscape" has-caption full-width lead">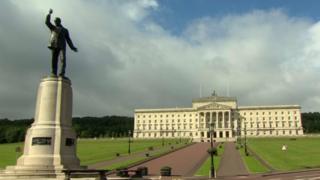 Image caption The BBC understands the talks ended at about 19:30 BST on Friday, breaking up fairly abruptly
The absence of devolved government in Northern Ireland "cannot continue for much longer", Secretary of State James Brokenshire has said.
He spoke after another day of talks between the Democratic Unionist Party (DUP) and Sinn Fin ended with no deal.
Theresa May phoned DUP leader Arlene Foster and Sinn Fin's northern leader, Michelle O'Neill on Friday evening.
The PM told them her government was committed to doing all it could to help parties reach a successful conclusion.
'Running the show'
A No 10 spokesperson said Mrs Foster and Mrs O'Neill "both agreed on the need for the executive to be restored for the benefit of everyone in Northern Ireland".
<div id="bbccom_mpu_1_2_3″ class="bbccom_slot" mpu-ad" aria-hidden="true">