Hello. Here's your morning briefing:
<figure class="media-landscape" no-caption full-width">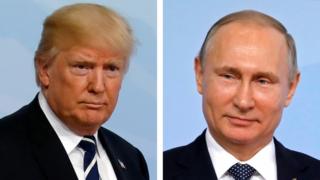 Image copyright Reuters
Trump and Putin met a second time
Donald Trump and Vladimir Putin had a second, previously undisclosed, meeting at the recent G20 summit in Germany, with only the two leaders and Mr Putin's interpreter present. It happened during a private meal attended by heads of state, it's been revealed. The White House has not said what the US and Russian presidents discussed, with Mr Trump dismissing suggestions they had a "secret dinner" as "fake news".
The two leaders' relationship is under intense scrutiny. US intelligence believes that Russia helped Mr Trump in last year's presidential election. Russia denies this and Mr Trump has rejected any claims of collusion.
BBC to reveal stars' salaries
Some of the BBC's biggest stars are expected to have their salaries revealed later, as the corporation's annual report includes, for the first time, the details of everyone earning more than 150,000 a year. It's thought presenters such as Graham Norton, Gary Lineker, Claudia Winkleman, Chris Evans, Fiona Bruce and Andrew Marr could be on the list. The report is published at 11:00 BST.
<figure class="media-landscape" no-caption full-width">

Get news from the BBC in your inbox, each weekday morning
<
div id="bbccom_mpu_1_2_3″ class="bbccom_slot" mpu-ad" aria-hidden="true">