Hello. Here's your morning briefing:
<figure class="media-landscape" no-caption full-width">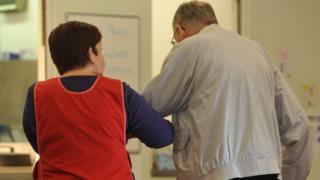 What lifestyle changes can cut dementia risk?
It's estimated that 47 million people worldwide are living with dementia, with that number expected to reach 131 million by 2050. So health officials, worried about the impact on society and families, are trying to find out how many cases are preventable. An international study published in the Lancet journal puts the proportion at just over a third.
The study sets out nine key risk factors, including lack of education, depression, hearing loss, loneliness, smoking and physical inactivity. It also examines the benefits of building a "cognitive reserve", strengthening the brain's networks so it can continue to function in later life despite damage.
"Acting now will vastly improve life for people with dementia and their families," says the report's lead author, Prof Gill Livingston, from University College London, "and, in doing so, will transform the future of society."
Grenfell fire: Council leader heckled
The leader of Kensington and Chelsea Council was booed and faced shouts of "resign" and "shame on you", at a meeting attended by 70 of the 255 people said to have survived the Grenfell Tower fire. Elizabeth Campbell, taking over the role after the resignation of Nicholas Paget-Brown last month, said she was "deeply sorry" for the "grief and trauma" suffered. The council meeting ended early after a female former resident of Grenfell Tower fell to the ground and had to be helped by medics. The council has been accused of being slow to react following the fire, but Ms Campbell promised to acquire 68 new homes for survivors over the next two weeks.
<div id="bbccom_mpu_1_2_3″ class="bbccom_slot" mpu-ad" aria-hidden="true">