Two men arrested on firearms charges after Bourbon Street-area attack, which occurred despite increased police presence for college football game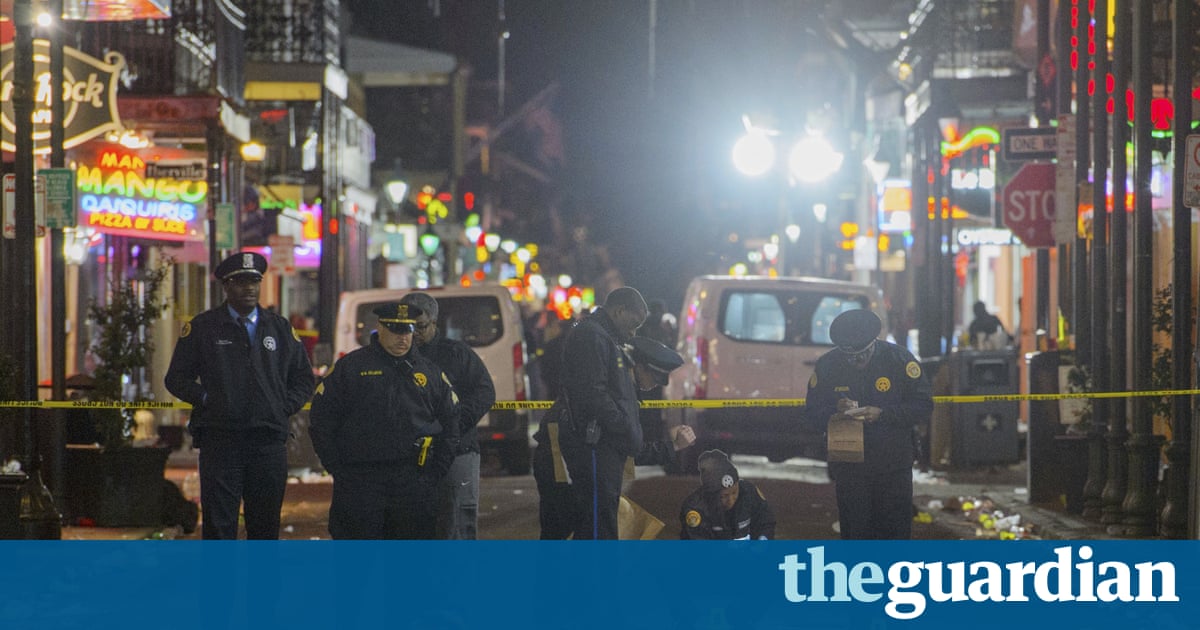 One man was killed, nine people were injured and witnesses said others ran in panic during a shooting early on Sunday in New Orleans French Quarter, a bustling tourist destination packed with bright lights, bars and live music.
Police superintendent Michael Harrison said officers responded at about 1.30am to the shooting, at the intersection of Iberville and Bourbon streets.
The shooting victims were two women and eight men, ranging in age from 20 to 37, he said. One man died at a hospital.
Harrison said police did not know what motivated the shooting, but one victim was among two men arrested on firearms charges.
Harrison said the shooting happened despite an increased police presence for the Bayou Classic football game on Saturday night, between Southern and Grambling universities. He said officers were nearby, heard the shots and ran toward them.
Glean Williams, who was selling hats and other items at a table a block away from the shooting, told <a href="http://bit.ly/2foeQRu" data-link-name="in" body link" class="u-underline">NOLA.com/the Times-Picayune people ran into doorways and hotels or hid behind palm trees decorated with Christmas lights along nearby Canal Street.
It was panic, said Williams, 24. Everybody started running. People getting run over, stepped on, knocked over.
Harrison asked anyone who witnessed the shooting to call police so we can hold those accountable who committed this heinous crime and prosecute them to the fullest extent of the law.
In a news conference with Harrison, New Orleans mayor Mitch Landrieu said authorities would pursue the shooters very, very aggressively.
Its totally unacceptable, Landrieu said. I mean, the violence just continues to spin out of control with people brandishing weapons whenever they think they can.
Read more: https://www.theguardian.com/us-news/2016/nov/27/new-orleans-shooting-french-quarter-bourbon-street