Passion is found on the road, on the dance floor and even at a local diner in Nashville-based alt-rock band
MONA
's music video for "Kiss Like a Woman."
The video, which debuted Feb. 13, generated instant buzz for the band, and not just because its romantic theme was fitting for Valentine's Day. Two of the clip's steamy smooches take place between same-sex couples.
Lead singer Nick Brown told HuffPost he and bandmates Justin Wilson and Jordan Young wanted to remind fans that "there is joy in being yourself" with the video.
"It is very important to us ― not only as musicians, but just as humans ― to let the people in our lives, especially the listeners, know simply that no matter what walk of life you take that you are loved and accepted and have our support," Brown said.
As for showcasing same-sex couples against a backdrop of Norman Rockwell-esque Americana, he quipped, "We love tying in classic, timeless vibes. Who doesn't love a good scene with a motorcycle?!"
Music critics have applauded the gesture. Billboard called the video "a queer make-out celebration," while Atwood Magazine praised Brown, Wilson and Young for sending a "true American message of love, freedom and acceptance."
"Kiss Like a Woman" is the first single from MONA's forthcoming, and as-yet-untitled, new album. It will be the band's first full-length release since 2013′s "Torches & Pitchforks."
Meanwhile, MONA ― which has opened for the likes of Arcade Fire, Kings of Leon and Robert Plant ― will kick off its latest era with performances in New York and Los Angeles next month.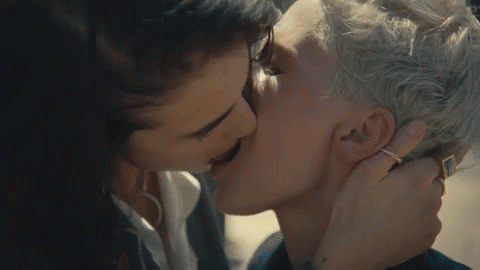 <
div class="app-download-interstitial" hidden js-app-download-interstitial bn-app-download yr-app-download" data-block-class="app-download-interstitial">